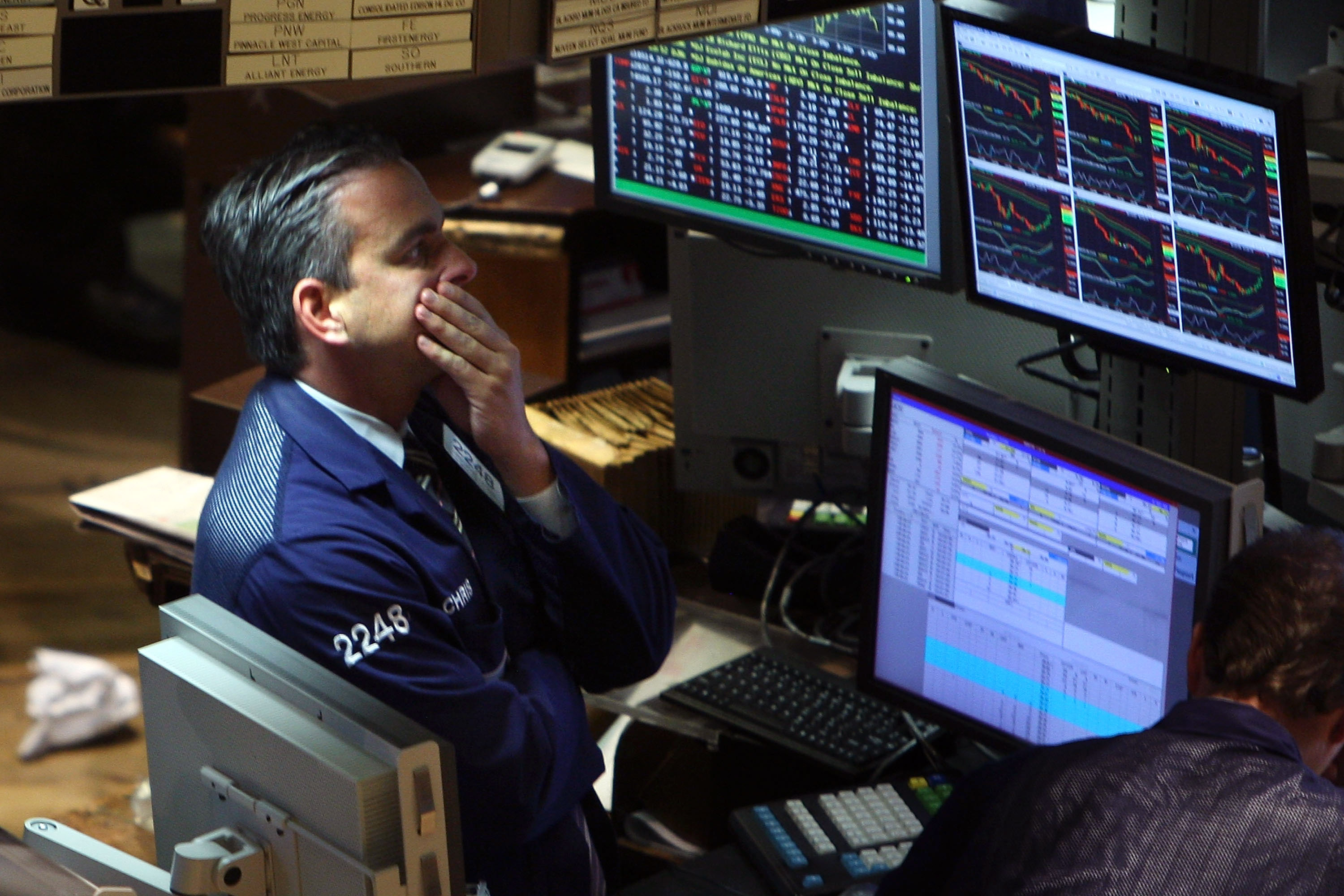 AFP-World stock markets mostly fell on Friday after the economic outlook in Germany soured sharply, with bank shares in focus after Moody's downgraded some of the biggest names including HSBC.
Europe's main stock markets closed lower, mirroring losses in Asia in the wake of weak manufacturing data from China, but US stocks rebounded.
Spanish and Italian bonds wavered as leaders from Spain, France and Germany met in Italy to voice confidence that the Eurozone can move beyond its troubles through closer integration and with growth measures.
At the close in Europe, the benchmark FTSE 100 index dropped 0.95 percent to 5,513.69 points. In Frankfurt, the DAX 30 dropped 1.26 percent to 6,263.25 points, while in Paris the CAC 40 slid 0.75 percent to 3,090.90 points.
But Madrid's IBEX 35 jumped 1.52 percent to 6,876.30 points after Spain announced late Thursday that its crisis-torn banks would need up to 62 billion euros ($78 billion) to survive a severe financial slump, far less than the maximum foreseen in a Eurozone rescue deal. In midday trade on Wall Street, the Dow Jones Industrial Average was up 0.52 percent, the S&P 500 gained 0.31 percent, while the tech-rich NASDAQ rose 0.65 percent.
In foreign exchange deals, the euro edged up to $1.2546 from $1.2543 late on Thursday in New York while the dollar rose to 80.49 Japanese yen from 80.26 yen on Thursday. "In a sense, Moody's downgrade of 15 major global banks was merely a sideshow," said Chris Beauchamp, a market analyst at IG Index trading group. "The real story is a good deal more serious, as Germany is finally beginning to feel the pinch of the Eurozone crisis."
Data showed that the debt crisis had pushed business confidence in Germany, Europe's biggest economy, to the lowest level for more than two years. But the health of 15 of the world's biggest financial institutions has also been called into serious question after Moody's downgraded their credit ratings, citing heavy risk exposure and the Eurozone crisis.
Some of the biggest names in banking — including Goldman Sachs, Barclays, Citigroup and Deutsche Bank — saw their ratings slashed on Thursday after the close of US markets, spelling increased investor scrutiny and potentially higher borrowing costs for lenders.
In London, HSBC and Barclays shares and Britain's state-rescued Royal Bank of Scotland were flat. Deutsche Bank declined 0.90 percent, while in Paris shares in downgraded Credit Agricole rose 0.36 percent and BNP Paribas gained 0.65 percent.
In Madrid, Santander rose 1.07 percent and BBVA gained 3.38 percent thanks to Spain's bailout announcement.
In Germany, the Ifo economic institute's closely watched business climate index fell to 105.3 points in June from 106.9 points in May.
It was the second month in a row that the index has fallen and brings the barometer to its lowest level since March 2010.
"The recent surge in uncertainty in the Eurozone is impacting the German economy," said IFO president Hans-Werner Sinn.
"While companies' assessments of their current business situation brightened slightly, they scaled back sharply their expectations for the next six months," Sinn said.
In a four-way summit in Rome, German Chancellor Angela Merkel called for closer governance in Europe as the leaders announced a new goal to relaunch growth in the debt-wracked Eurozone with a 130-billion-euro growth package largely using existing funds.
But French President Francois Hollande said that there could be "no transfer of sovereignty without greater solidarity."
Spain meanwhile announced it would formally request Eurozone aid for its stricken banks on Monday.