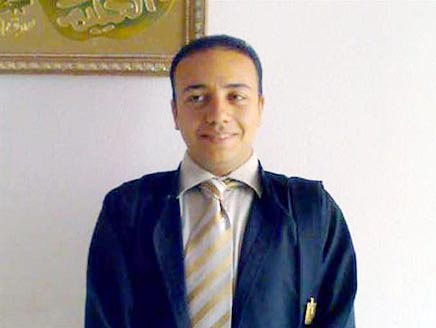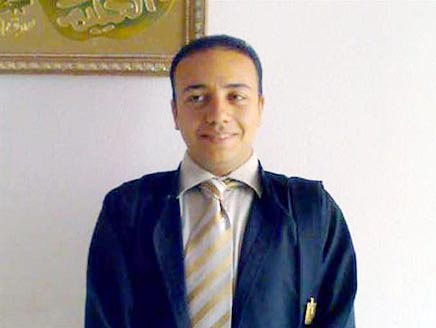 The legal advisor of the Egyptian Consulate met with jailed Egyptian lawyer, Ahmed Al-Gizawy for three hours denying that he was moved to death row, according to an official cited by El Shorouk newspaper yesterday.
The official claims that the legal advisor called Al-Gizawy's wife several times during his meeting with Al- Gizawy, but she never picked up.
Ahmed Al-Gizawy reportedly sent a written letter to the Egyptian Consulate last night saying he is in perfect health and he appreciates the efforts of the Egyptian Consulate and Embassy in Saudi Arabia, according to El Shorouk newspaper.
Shahenda Fathy, his wife, put an end to rumours that Al-Gizawy, currently incarcerated in Saudi Arabia, is going to be immediately executed.
Fathy told an ONTV talk show Monday her husband had not been sentenced to death, yet, but that he is being kept on death row.
Al-Gizawy was arrested last April in King Abdul Aziz Airport in Jeddah for trying to smuggle drugs into the country.
The arrest came after he filed a lawsuit demanding better rights for Egyptian workers in Saudi Arabia, sparking protests outside the Saudi embassy in Egypt.
Fathy insists there is no evidence her husband committed the crimes he is accused of, which include charges of drug smuggling.
Fathy said she found out Al-Gizawy was being kept on death row from fellow inmates who have been all allowed to make calls from the prison.Al-Gizawy has been denied access to the telephone during his detention.
Fathy also expressed fears that her husband is being kept on death row as a form of psychological torture, in order to force a confession out of him She added she has reason to believe her husband is being mistreated. Fathy hopes for a royal Pardon from King Abdulla II of Saudi Arabia, who annually grants pardons to selected prisoners during the month of Ramadan.
She has also met with Yasser Aly, the official spokesman of President Mohammed Morsy, who assured her that he would try to get the name of her husband on a list of people who will be granted pardon.s
In a previous show on El-Tahrir Television, Fathy frantically described how she discovered the attorney general in Saudi Arabia was demanding her husband be executed. "They just cut off heads with swords", she screamed, in reference to the Saudis.
Lawyer Mostapha Mahmoud, is more optimistic about Al-Gizawy's prospects.He said people are entitled to trials in Saudi Arabia and a defence team is allowed in the trial. The defence team will be made up of Saudi lawyers only, Mahmoud added, but this was to be expected.
The Egyptian government has come under fire for how Al-Gizawy has been treated so far. Amir Salem, a human rights lawyer, complained that there should have been "Egyptian representatives present throughout every single procedure" in this case. Khaled Abu Kresha, a member of the Lawyers' Syndicate of Egypt, said the syndicate demanded to meet Al-Gizawy in prison and speak to him, in order to discuss his case with the Saudi defence team, but the request was ignored.
Mohammed Zare', head of the Arab organization for Penal Reform, has also claimed Egypt is not doing enough. "It's not enough for the Egyptian Foreign Ministry to challenge the fact that Al-Gizawy was sentenced, they also have to challenge the fact that he was taken to death row."
"People who have been sentenced can be put on death row. But people who have not yet been found guilty cannot be treated as if they are already proven criminals, " Zare said. "Consider the psychological toll it has on him,."
The spokesperson of the Egyptian Foreign Ministry told the state-run Al-Ahram newspaper that these claims about Al-Gizawy are overblown. Al-Gizawy has not been "sentenced and he has not even been tried yet.The date for his trial has not been set. He has not even been formally accused."
Protests in solidarity with Al-Gizawy in front of the Saudi embassy were planned for Tuesday night.