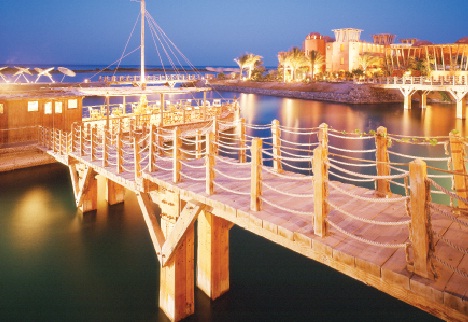 By Sarah Loat
It is Africa's leading beach hotel, according to the World Travel Awards; it is currently ranked as El Gouna's number one hotel on popular review site Trip Advisor, and also has the accolade of being one of the top 25 hotels in Egypt. The Sheraton Miramar Resort, El Gouna, has a lot to live up to.
A vision of turquoise and terracotta, this hotel has an unrivalled beach front location in El Gouna, perhaps the most stylish resort on the Red Sea coast. Designed by internationally renowned architect, Michael Graves, the Nubian styled rooms are uniquely spread across nine islands linked by wooden bridges, surrounded by lagoons and sea. Although architecturally striking, some of the interior furnishings could benefit from an update. Rooms, however, are comfortable, spacious and very well-equipped, each with a picture-perfect view of beaches, lagoons or attractive tropical gardens.
Basking in year-round sunshine, the Sheraton faces the warm, azure waters of the Red Sea and has its own protected, mangrove island, which serves both as a sea break and a chance to see marine wildlife. Colourful canopies of kitesurfers litter the sky. Yachts and dive boats effortlessly pass by and the islands of Tawila and Mahmeya sit on the horizon.
Relaxation is actively encouraged. The wind-breaks and sun-shades at the beaches have "call" buttons to summon a waiter when the need for a cool drink arises and the will to leave your sun lounger slips away. The tide rolls in and stresses literally ebb away.
Come nightfall, the hotel oozes romance. Soft, thoughtful lighting gently illuminates the grounds. If you are not a honeymooner, there is every possibility you will feel like one.
Poolside, things are a little livelier. Tanning and book time may be briefly interrupted by cries of "agwa jeeeem" as international guests assemble themselves in the pool for some synchronised exercise or water polo.
Of course there are plenty of activities on land and sea: golf, quad-bikes, horse and camel rides, and a multitude of sea sports from snorkelling and windsurfing to diving, boat trips and kitesurfing. Whilst luxuriating at the beach or pool is a given, it might be prudent to consider a little exercise after indulging in the Sheraton Miramar's top notch restaurants.
Dining options are surprisingly very, very good. Hotel buffets are usually fairly uninspiring, but the Sheraton has injected some considerable care and imagination with beautifully presented daily changing cuisine, and chefs cooking a number of options live in the Miramar restaurant. La Piscina offers the experience of dining under the stars on hearty Italian or elegant seafood. Enjoy traditional Lebanese and Egyptian fare, beachfront, at Orient 1001.
Sheraton Miramar is undoubtedly popular with its guests, many returning year after year. The high quality of service is down to the dedicated staff that work with enthusiasm, and despite the physical capacity of the hotel, treat each guest with personal dedication.
They will know your name, which room you prefer and how you like your coffee. It is refreshing too, to see hotel management actively present and involved around the hotel, instead of faceless men in suits. They value their guests; they appreciate vacation time is precious, and it shows.
Sheraton Miramar is a big name brand with an intimate service, offering a literal feast for the senses. A resort that implores you to relax… and come back for more.