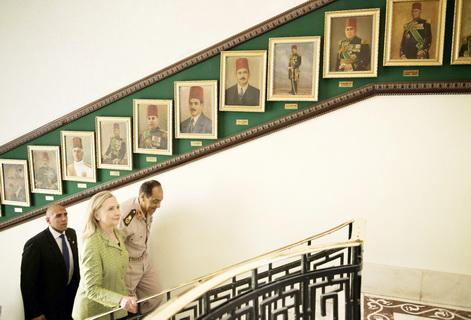 United States Secretary of State Hillary Clinton met on Sunday with Field Marshal Mohamed Hussein Tantawi, head of the military ruling junta, after she praised the Supreme Council of Armed Forces for representing Egyptians during the revolution and shying away from the Syrian military's reaction which is 'murdering their own people.'
"We have commended the SCAF for representing the Egyptian people in the revolution, as compared to what we're seeing in Syria," Clinton said in a press conference before the meeting, "which is the military murdering their own people."
The comments delivered before the meeting also came with Clinton's acknowledgment that the military must 'return to a purely national security role.'
Clinton seemed to recognise that the military's involvement in the current transition was problematic, but it also was a norm for states that have witnessed similar upheavals after uprisings.
"If you look at Latin America, you look at Asia, you look at the former Soviet Union, other countries have gone through these transitions, especially from authoritarian, military-dominated rule," said Clinton.
Tantawi and Clinton toured the Department of Defence compound before their discussion.
Clinton also met with members of Egypt's minority community after which she said the US was "committed to protecting and advancing the rights of all Egyptians: men and women, Muslim and Christian."
The United States has stood behind SCAF throughout the uprising, despite differences between the ruling generals and the US government over the detention of development workers.
Recently US senators have attempted to pass a bill that would require $1.5 billion worth of aid, a bulk of which is parlayed for SCAF use, to be tied to democratic reforms taking shape in Egypt.
"The SCAF here protected the Egyptian nation, and we commend them for overseeing a free, fair election process," Clinton said.