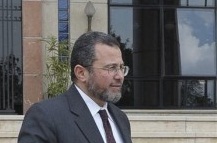 Sources within the Ministry of Finance have revealed that newly appointed Prime Minister, Hesham Qandil, is committed to re-appointing Momtaz El-Saeed as Minister of Finance in the new government and has applied strong pressure on him to stay. El-Saeed has reportedly refused for a variety of reasons including the objections to the implementation of some of his suggestions during his tenure of the post.
The sources said that Qandil's pressure has left the current Minister of Finance torn between leaving his position and staying on for another term. The sources also predicted that President Mohamed Morsy would oppose handing over the Finance portfolio to anyone who is not among the Muslim Brotherhood's prominent leaders.
Meanwhile, the Union of Delegates of the Ministry of Finance (UDMF) sent a statement to its members asking them to send faxes to the office of the President warning that a renewed term for El-Saeed would lead to the waste of public funds. The Union stated that El-Saeed is dangerous and that there is still time to apply pressure on the President, noting that Qandil will announce the new government on Thursday.
A dispute between the UDMF and El-Saeed occurred when he abolished certain financial incentives they had previously received, significantly reducing their compensation. UDMF members organised a strike at the time.
It was reported that El-Saeed arrived at the Ministry of Finance the day before yesterday at 10:30 AM, an hour and a half later than his usual time, to be surprised that a large number of the Ministry administration were not present and had turned off their phones. The remaining employees stayed in their offices following news of the new government.