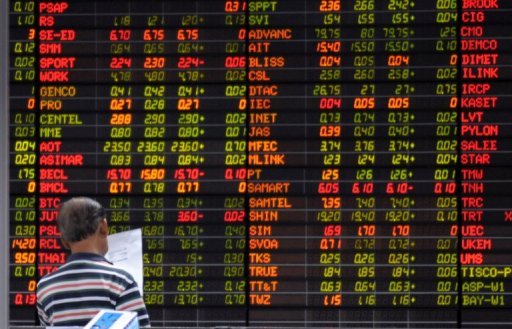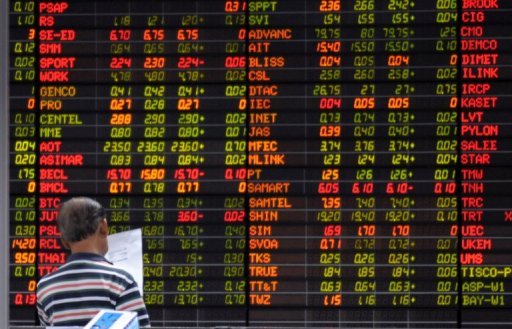 Hong Kong (AFP) — Asian shares were mostly higher on Tuesday, shrugging off uncertainty over the eurozone debt crisis after Germany and the European Central Bank dampened hopes for action to drive down borrowing costs.
But Tokyo's Nikkei index slipped after the previous day's rally, edging down 0.16 percent as the dollar held on to recent gains against the yen, underlining a continued shift away from the safe haven Japanese currency.
Sydney rose 0.44 percent, or 19.1 points, to 4,383.4, while Seoul closed 0.16 percent, or 3.09 points, lower at 1,943.22.
Hong Kong was flat, edging down 4.18 points, to close at 20,100.09 as traders shifted focus to a flurry of corporate earnings reports out this week, while Shanghai closed up 0.54 percent, or 11.31 points, to 2,118.27.
German news weekly Der Spiegel reported Sunday that the ECB was considering buying bonds issued by heavily indebted eurozone countries in a move that would ensure borrowing costs did not rise beyond a pre-determined level.
But an ECB spokesman brushed aside the report as "absolutely misleading", while another at the German finance ministry said such an action would "be very problematic".
Germany's central bank, the Bundesbank, said such bond purchases "should be viewed critically and entail, not least, substantial stability policy risks".
Borrowing costs for Spain and Italy have shot up towards levels that forced Greece, Portugal and Ireland to seek a bailout.
"The markets are pretty much on hold until September, which is the earliest we can expect any meaningful action from the European Central Bank," Tim Waterer, senior trader at CMC Markets in Australia, told Dow Jones Newswires.
European markets had advanced in early trading on the Der Spiegel report but turned down after ECB and German officials dismissed the story.
US stocks closed flat in quiet trade that still had enough might to push Apple to become the world's most valuable company of all time with a total market value of $623.52 billion.
That surpassed the previous record of $619 billion set by software titan Microsoft in 1999, during the dot-com boom years.
The Dow Jones Industrial Average slipped 3.56 points to close at 13,271.64.
The S&P 500-stock index lost a bare 0.03 points at 1,418.13, while the tech-rich Nasdaq edged down 0.38 points to 3,076.21.
The euro bought $1.2358 and 97.89 yen in Asian trade, compared with $1.2372 and 97.97 yen in New York late Monday. The dollar eased to 79.33 yen from 79.35 yen in US trade.
In oil markets, New York's main contract, light sweet crude for delivery in September, gained 88 cents in the afternoon to $96.85 a barrel while Brent North Sea crude for delivery in October gained 55 cents to $114.48.
Gold was at $1,625.50 at 1055 GMT, compared to $1,615.20 on Monday.
In other markets:
— Taipei rose 1.01 percent, or 74.90 points, to 7,506.81.
Taiwan Semiconductor Manufacturing Co gained 1.46 percent to Tw$83.6 while Hon Hai Precision was 1.30 percent higher at Tw$85.9.
— Wellington climbed 0.73 percent, or 26.65 points, to 3.687.74.
Telecom Corp gained 2.4 percent to NZ$2.805 while Fletcher Building rose 1.4 percent to NZ$6.66.
— Bangkok edged up 0.27 percent, or 3.29 points, to 1,232.29.
Department store owner CPN gained 3.03 percent to 51.00 baht, while PTT lost 0.29 percent to 341.00 baht.
— Singapore climbed 0.12 percent, or 3.66 points, to 3,065.77.
Asia Pacific Breweries rose 4.81 percent to Sg$53.00 and Singapore Telecommunications gained 1.82 percent to Sg$3.35.
— India's Sensex Index rose 1.10 percent, or 194.18 points, to 17,885.26, partly because of expectations that fiscal reforms will soon be implemented by the government, analysts said.
— Jakarta, Kuala Lumpur and Manila were closed for public holidays.