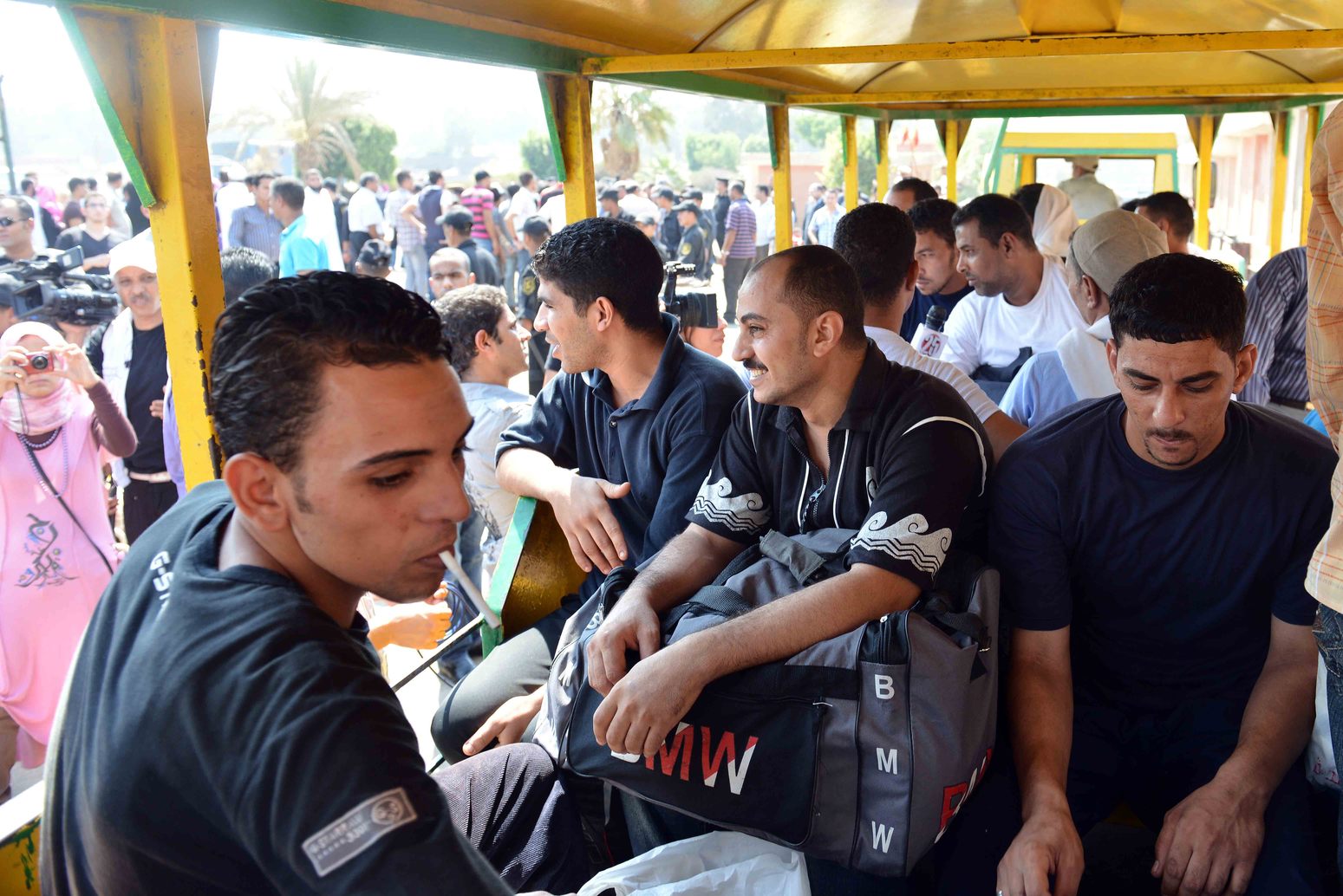 A number of prisoners in military prisons, detained during clashes with security forces, were released last week but did not receive official pardon for their convictions, according to the No Military Trials movement.
A committee convened by President Mohamed Morsy to review cases of civilians tried by military courts deemed 58 prisoners fit for release last week and President Morsy released a statement granting their release on Saturday.
"None got amnesty for their crimes," Maha Ma'moun, member of the No Military Trials movement, said. "Thus, their criminal records stand intact."
"This group of released detainees includes protesters from Port Said as well as Sambo," Ma'moun said. Mohamed Gad Al-Rab, known as Sambo, was arrested during clashes with police forces on 28-29 of June 2011 and is one of the most prominent protesters sentenced by a military court.
Meanwhile, in Suez last Thursday, eight civilian detainees who received sentences from the Suez military court in July were released after the military governor responsible for ratifying their sentences declined to do so.
The detainees were arrested in front of the Suez Governorate building on Friday, 4 May, while demonstrating against clashes which occurred between protesters and the military police in the Abasseya district on the same day.
The eight activists were charged with inciting violence and were sentenced by the Suez Military Court on 9 July, after five postponements of sentencing. The judge sentenced seven of the defendants to six months in prison. The eighth defendant, Mohamed Ghareeb, received a three year sentence.
Ma'moun explained that the eight detainees will also still have criminal records, since they did not get a full pardon.
"Their case is similar to those released upon recommendations from Morsy's committee," Ma'moun said, adding that the first round of releases, which included 572 military detainees released in late July upon recommendations from the same committee did not receive a full pardon either.
"And neither did those released by the Supreme Council of Armed Forces (SCAF) before Morsy came to power," he added.
Official spokesperson of Morsy's committee, Mahmoud Fawzy, described the new round of military detainees in an earlier interview with the Daily News Egypt, saying that they would "include a group of civilians sentenced to military jails."
"The crimes they committed are similar to those which have been pardoned before in the transitional period," Fawzy said. "Moreover, General Security has been consulted about their release."
Fawzy added that though the number of detainees in the second report is less than that in the first, the second report would include revolutionary activists who have received sentences from civilian courts.
"Honestly, we expected a bigger number of releases," Ma'moun said in reaction to the latest announcement. "This is the lowest number of military detainees to be released as of yet."
Ma'moun estimates that 2000 detainees still remain in military prisons, based on numbers provided to the committee by the Ministry of Interior.
President Morsy established the committee five days after his inauguration, as an answer to persistent requests for the release of civilians tried in military courts.
The committee, which includes legal experts from the Ministry of Interior, the military judiciary and revolutionary representatives, was mainly established to review cases of people detained in militarily facilities and tried from 25 January 2011 until 30 June this year.