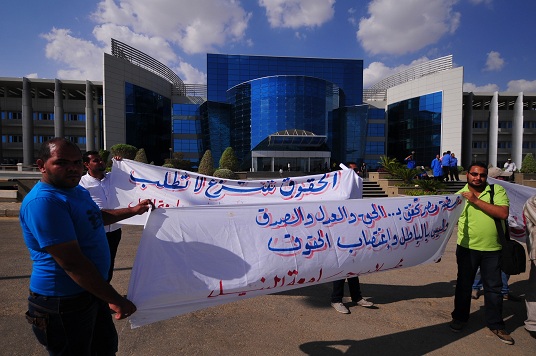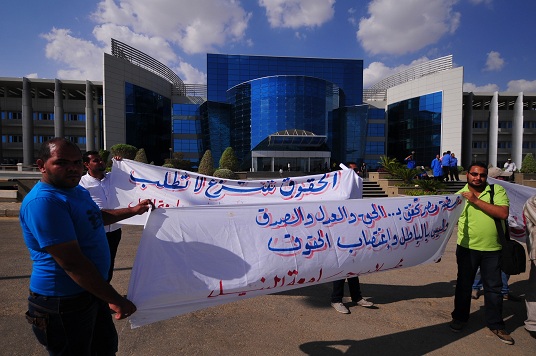 A meeting has been planned for Monday to resolve the NU crisis, and reportedly will be attended by the Minister of Higher Education Mostafa Mes'id, the Minister of Communication Hany Mahmoud, and prime minister Hesham Qandil.
Members of the Nile University community continued their sixth day of protests going into Sunday, since peacefully taking to the disputed campus last Tuesday. Students of the research university have been appealing to government authorities to return land and buildings allocated for a new campus, after their new campus was confiscated in the beginning of 2011.
Over the past week, various groups have rushed to support the NU students, both through physical presence at demonstrations in Sheikh Zayed and via official statements.
"The Revolutionary Socialist Movement stresses its full support for the students of Nile University in their struggle against remnants of the ousted regime of their looted rights," read a statement from last Tuesday from the Revolutionary Socialists.
Various student groups also lent support to the cause. Student groups including those from the British University, the American University in Cairo, MSA University, and Cairo University issued statements supporting the right of NU students to begin their semester on their new campus.
On Saturday a delegation from Masrena youth movement visited Nile University to listen to demands of those protesting, and said they could "develop frameworks from which to reach a solution of the crisis."
The university's board of trustees also addressed students on the campus last week and assured them that a solution was being formulated.
In a press conference at the campus on Saturday, two students announced a 48-hour deadline before they would undertake a hunger strike to pressure the government to come to a swift solution.
According to Heba Shalaby, who is part of the Save NileU initiative, the students don't have a deadline to regain the campus, as long as the situation is resolved in time for the new semester to begin in mid-September. A possible solution, that would allow the students to use one building to start, has been discussed. "This solution would be temporary and we would still work to regain the rest of the campus," she said, "our legal standing is strong."
Construction for the NU campus began in 2006 on a plot of land allocated for the Zeweil City for Science and Technology. However in 2011, the Egyptian government handed over the land, including the campus intended for NU, to Zewail's project, which had previously stagnated following inception in 2000. Talks broke down to merge the two entities, leading to student protesting the confiscation of the previously promised campus.