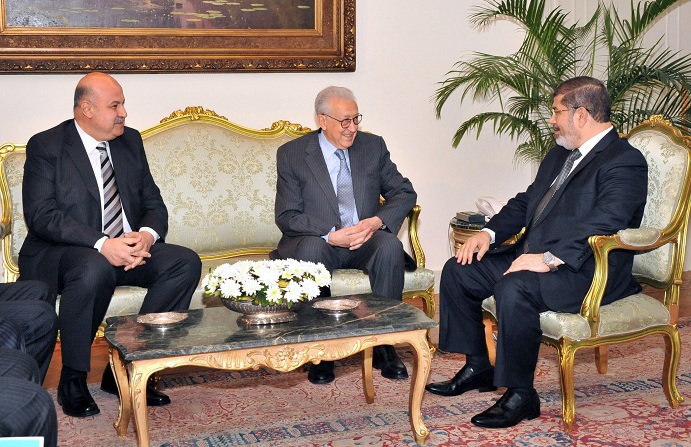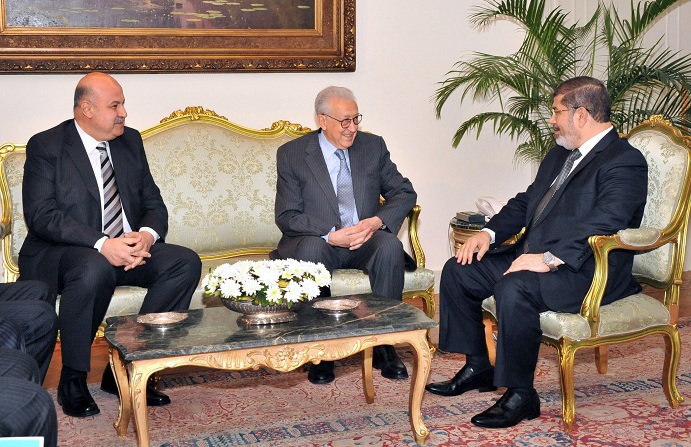 The UN's peace envoy to Syria, Lakhdar Brahimi, is set to visit Syria this week after meeting with President Mohamed Morsy, the Arab League, Syrian opposition figures, and other officials, in Egypt. The United Nations secretary general, Ban Ki-Moon, told reporters at a news conference in the Swiss capital, Berne, on Tuesday, that Brahimi would be meeting with Syrian president Bashar Al-Assad during his visit to Syria.
Envoys from Iran, Saudi Arabia, and Turkey held talks with Morsy as the Quartet deliberated what to do with regards to Syria. The talks were held in preparation for a ministerial meeting in Cairo over the coming days, Reuters reported the Egyptian foreign minister, Mohamed Kamel Amr, as saying.
Iranian news agencies were ablaze with claims of an impending oil deal with Egypt and a visit to Tehran by Brahimi after the envoys met for the first time on Monday. The former was vehemently denied by the Egyptian Petroleum Ministry while the UN had no information regarding the latter.
While Brahimi meets with important international figures outside of Syria, the violence within continues unabated, claiming the lives of at least 26 people on Tuesday, AFP reported. Britain's foreign secretary, William Hague, held talks with Morsy in Cairo on Tuesday and invited him for talks in Great Britain.
While politicians and other people of repute are busy arguing over the finer points of the Syrian crisis and solutions, Angelina Jolie is in Jordan visiting refugee camps along with High Commissioner for Refugees, Antonio Guterres. Jolie and Guterres visited the Zaatari refugee camp on Tuesday, home to tens of thousands of refugees from Syria.
Jolie is a goodwill ambassador to the UN, and has donated hundreds of thousands of dollars to the UN'S Refugee agency. During her visit she was taken to the border and witnessed the influx of refugees. "The amount of innocent children that have been reported dead, the amount of innocent children I've met here who are wounded and unaccompanied — with their parents being killed and now they're on their own — it's impossible to imagine any mother standing by and not stepping up and doing something to prevent this," CNN quoted Jolie saying.