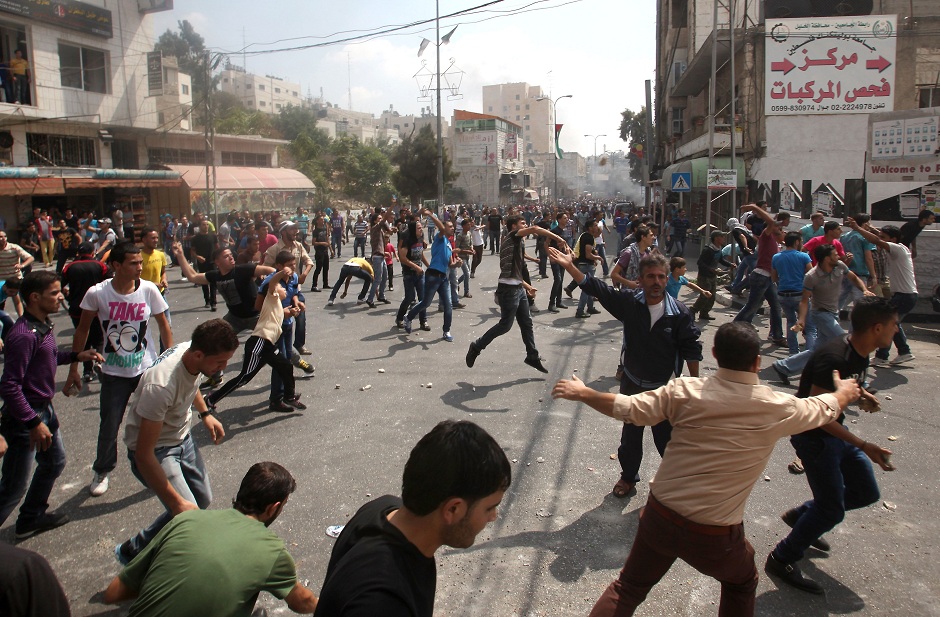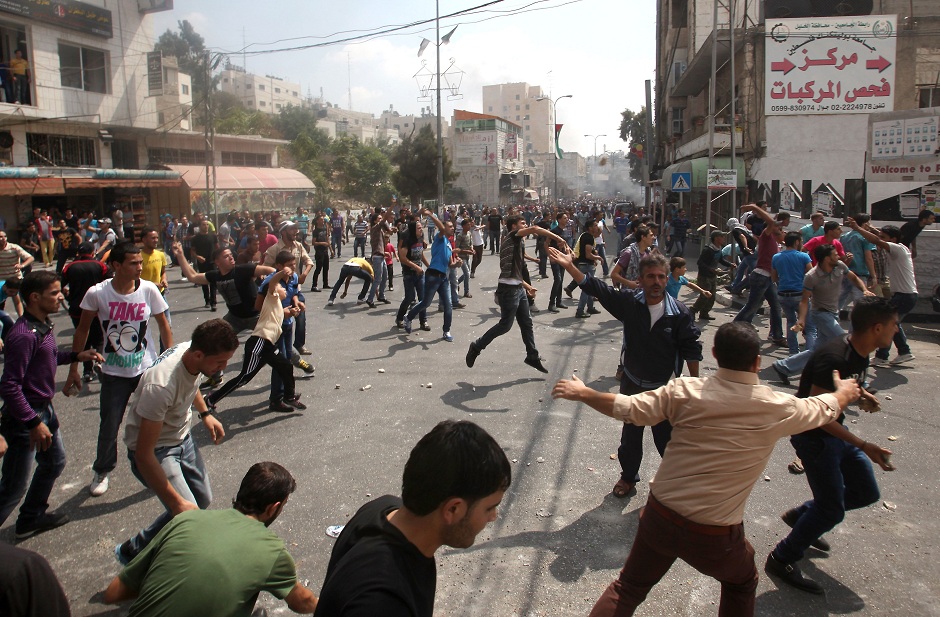 As protests against economic recession across the west bank entered their sixth day, Palestinian Prime Minister Salam Fayyad vowed to introduce subsidies and cuts to fuel prices and top officials' salaries, AP reported.
Protests became violent Monday with claims of arrests and injuries spreading among Palestinian activists after more than 2,000 protesters gathered in Al-Khalil and Nablus in the north. The protests included a general strike by public transport employees and taxi drivers, AFP reported.
The economic stagnation is believed to be caused by strict Israeli trade controls as well as the decline in foreign aid to Palestine. The resulting economic situation has caused living costs to soar and petrol prices and unemployment to rise.
Protesters burned tyres, blocked roads and hurled stones at Palestinian police and Israeli troops as well municipal buildings.
"We demand that President [Mahmoud] Abbas and prime minister [Salam] Fayyad resign and all of the Palestinian Authority because they have been unable to carry out their political and economic duties," Khaled Idriss, Al-Khalil resident told AFP.
"I didn't come alone, I came with my donkey to show I am protesting against the rise in [petrol] prices," said Fawaz al-Ragabi, another resident.
Public transport completely stopped throughout the Israeli occupied West Bank in protest against the rise in petrol prices, leaving the streets of the area unusually empty. Even private cars had difficulties entering towns because protester roadblocks.
The protests demonstrated Palestinian anger at the Ramallah based Palestinian Authority (PA) led by President Mahmoud Abbas. The majority of public anger is directed against Fayyad, as protesters pelted a giant poster of him with their shoes, and demanded his resignation, reported The Jerusalem Post.
"If the government doesn't come out with serious, concrete solutions, the protests will go on and become bigger," Wasel Abu Yousef, a member of the Palestine Liberation Organization's executive committee told Reuters.
The police have so far not reacted to stop the protests, and to prevent further escalation have been instructed by PA leaders not to interfere unless things get out of control.
"We completely understand these protests, the president and the leadership's instructions were clear and affirmed the peaceful nature of these protests," police spokesperson, Adnan Damiri told AFP. "We are not interested in clashing with the people because we don't want to complicate things, but at the same time we are seeking to maintain the peace."
Long-time rivals of the PA Hamas have criticised the handling of protests. Spokesperson Fawzi Barhum told AFP that the protests were "a natural reaction to the PA's political and economic failure.
"Abu Mazen (Abbas) has to respond quickly to the fair demands of the protesters and make them a priority, because responding to their daily needs is an act of nationalism," he said.
The PA cabinet held a meeting on Tuesday to discuss ways to ease economic hardship in the West Bank. The meeting tackled recommendations of the Sunday meeting between Fayyad and business and union leaders, the private sector and civil society groups that was held to suggest methods to reduce prices and regulate salaries, according to AFP.
Government employees held a partial strike on Tuesday and promised to protest outside the cabinet meeting to express their anger for receiving only part of their August salaries.
The protests have been closely observed by Israel, amid fear of a third Palestinian Intifada against Israeli occupation of the West Bank, reported The Jerusalem Post.