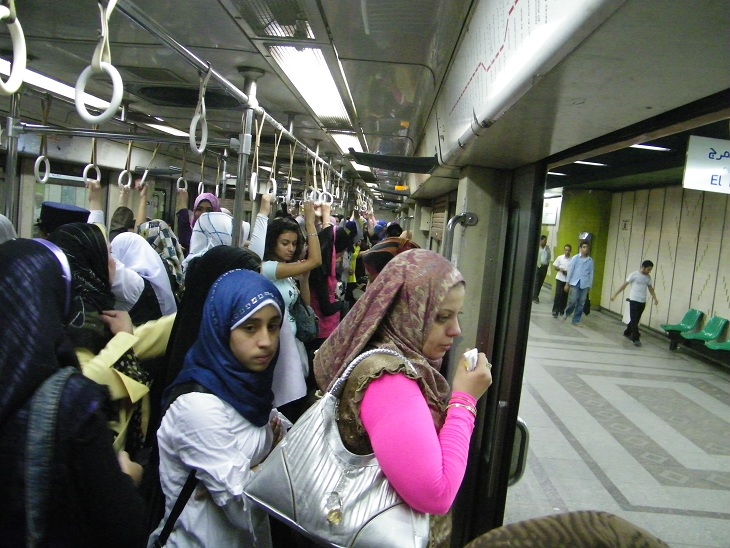 The Cairo metro, run by the The Egyptian Co. for Metro Management and Operation, is the first underground system in the Middle East and Africa. Passengers have the chance to go through stretches of the city while avoiding the traffic on the roads.
Ahmed Abdel Hadi, a spokesperson for the metro, said the system has three lines, Helwan to New Al-Marg, Shobra Al-Kheimah to Al-Moneeb, and Attaba to Abassiya. A fourth line is under construction.
The metro was launched with Helwan to El Marg, built in 1987 and completed two years later. Some of its stations are connected through underground tunnels while others are at ground level.
The metro transports millions across the city for only the small price of one Egyptian pound; the affordability of the ticket could be among the biggest reasons why the metro is so commonly used. It is also considered one of Cairo's fastest methods of transportation.
The capacity, Abdel Hadi said, is three million passengers a day, with traffic reaching its peak during the school year. It is most crowded in the morning from seven till ten and between one and five in the afternoon.
While avoiding the heavily congested roads of Cairo, the metro itself is has its own set of problems. Metro passengers have to deal with crowding, often having to push their way in and out of carriages. There is a lack of organisation with passengers using the exit doors to enter the metro and vice-versa.
Many male passengers choose to ride one of the two female carriages of the train, reserved for women in an effort to protect them from sexual harassment. Men will, in many cases, refuse to get off these carriages when asked to do so. The metro is also plagued with illegal vendors who sell their products on platforms, in carriages, and entrances and exits of stations.
Youth groups and campaigns, such as the "be a man" campaign have emerged in order to fight these violations of metro rules and have pushed for a greater security presence in the metro and stricter treatment for wrongdoers.