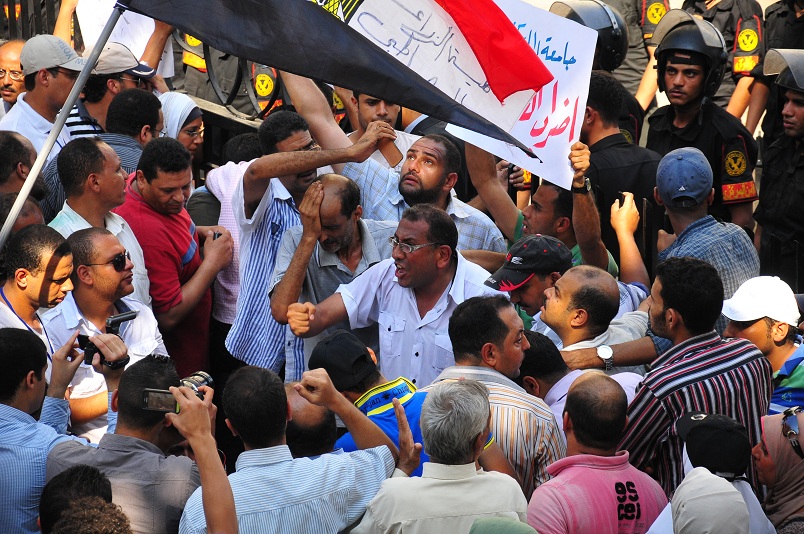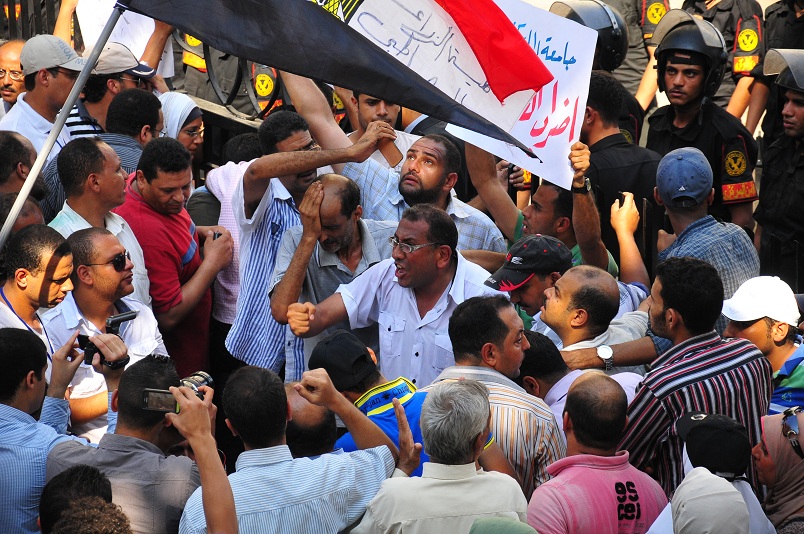 Almost 800 university administrative staff marched from Cairo University to the cabinet on Wednesday, demanding greater say in university decisions and higher pay, according to Mustafa Mahran, the Revolutionary Socialist's student official in Cairo University.
According to Mahran, the workers were from Alexandria, Al-Mansoura, Damanhour, Cairo, Ain Shams, Helwan, Suez, and Port Said University.
Mahran reported three people had gone on hunger strike at Port Said University, he added it was said one of the workers had died, however Daily News Egypt could not verify this.
The protesters demanded greater involvement in the university law drafting process, greater participation in the election of deans and university chairs, and membership of the university council.
Ahmed Abdel Ghani, Damanhour University protester, said, "Article 26 of the university law states that the university chair is in charge of the academic as well as the administrative management of the university, this means that we have the right to participate in electing him just as the academic staff do."
"We also demand that administrative workers who have acquired post-graduate degrees be given preference when hiring academic staff," said Abdel Ghani, who has acquired a masters and is currently enrolled in a PhD program.
Professors' and research assistants' salaries were doubled by the beginning of this fiscal year and protesters are demanding similar increases. Another march participant, Alexandria University worker, Mohamed Qutb, told Daily News Egypt "we are not demanding salaries on the same level as academic staff; we are only demanding social justice."
Mahran told Daily News Egypt that, so far, the reaction from the administration has been "quite repressive."
"Last week, 24 administrative workers in the Faculty of Economics and Political Sciences (FEPS), Cairo University, were removed from their posts as a consequence of taking part in the strike," Mahran said, adding a campaign of investigations and penalties has been also launched this week in the Faculty of Engineering, Cairo University.
Not everybody has been striking, however. Nermeen Mohamed, administrative worker at Cairo University told Daily News Egypt that though she fully approves of the strikers' demands, she is not convinced striking now is the best approach.
"These are definitely our rights," Mohamed said, "yet it cannot be expected that they should be available right away."
When faced with the academic staff's recent raise, Mohamed explained that it was issued in the state budget of the previous fiscal year. "We need to wait till the next fiscal year to get our raise."
The same could also be said about the administrative demands, which would necessitate amending the university law, according to Mohamed.
"We should get a set date when those demands would be met; it doesn't have to be straight away, though," Mohamed said.
The strike has been ongoing since early-September when it included around 300 workers, according to Mahran.
Cairo University succumbs to industrial action