Dostor Party Chairman Mohamed El-Baradei and former presidential candidate Hamdeen Sabahi released a statement Saturday calling on "national and democratic forces" to boycott the Constituent Assembly tasked with drafting Egypt's next constitution and all its activities.
"Due to the lack of basic concepts of guaranteeing Egyptians basic social and economic rights such as the right to honest work, healthcare and equal opportunities in the texts that have so far been leaked from the Constituent Assembly, the national and democratic forces call for a boycott of this assembly and rejection of all that comes out of it especially after the undemocratic way it was composed for the second time," the statement read.
The statement went on to say that that the constitutional articles leaked thus far from the assembly go against constitutional and legal norms of Egyptian history, violate personal and public rights and go against international agreements and treaties to which Egypt is signatory.
"The signatories to this statement call on all representatives of national and democratic forces to withdraw immediately from the current composition of the Constituent Assembly and invite them to participate in the exerting of legal, political and popular pressure with the aim of forming a new Constituent Assembly capable of fulfilling the Egyptian people's ambition and drafting a modern 21st century constitution," it went on.
The assembly should not be dominated by one political group or faction and should rather be composed of elected and appointed figures such as political party leaders, professional and labour syndicates, farmers' unions, heads of judicial and religious bodies as well as chairpersons of constitutional law departments at universities, the statement argued.
"The signatories to this statement demand that the president composes a new assembly that is balanced and ensures that no one party or ideology dominates the constitution as part of fulfilling his previous electoral promise of recomposing the assembly so that it represents the entire nation."
The statement was signed by several other political figures and party leaders including Mohamed Ghonim, Nasserist Party leader Sameh Ashour, Karama Party leader Mohamed Sami, Ahmed El-Borai representing the Dostor Party and Egypt Freedom Party leader Amr Hamzawy.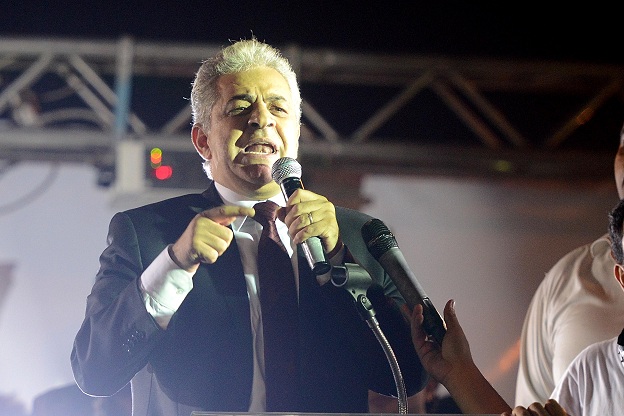 Amr Helmy and Hossam Mo'nes represented the Third Current, Bassem Kamel represented the Egyptian Social Democratic Party, and Socialist Popular Alliance Party leader Abdel Ghafar Shokr represented his party, as did Free Egyptians Party leader Ahmed Said.
Mohamed Abdel Aziz represented the Kefaya movement; Mohamed Hesham and Nabil Rashwan represented the Egyptian Socialist Party; and Samir Selim represented the Revolutionary Democratic Alliance.
Public political figures Hamdy Qandil, George Ishak, Hussein Abdel Ghany, Moustafa El-Gendy, Sayed Abdel Ghany, Mohamed El-Adl, Khaled Youssef, Hanna Griess and Mohamed Youssef also signed the statement.