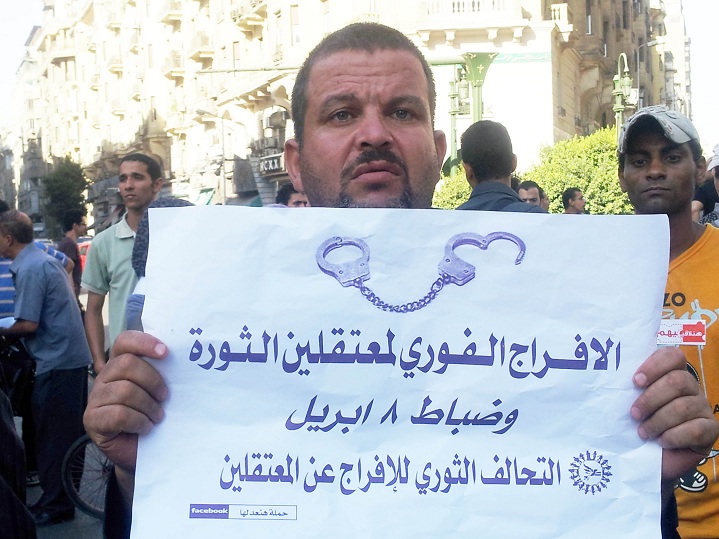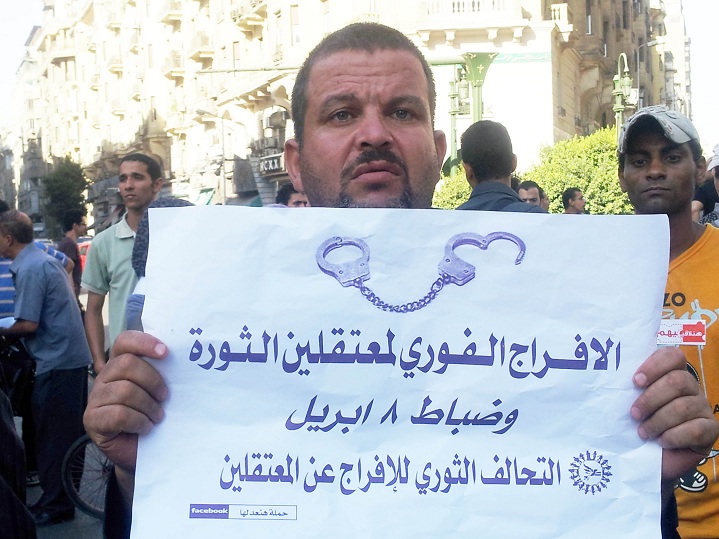 A small group of people began a hunger strike on Monday in solidarity with the 8 April officers who were sent to prison for participating in the revolution.
Ebtihal Abdel-Hamid, a member of the Campaign for the Immediate Release of Mohamed Wadi' (one of the 8 April officers ), said that the total number of the group is five. "But there is also a sit-in at gate number one of the Dakahliya Governorate building ." Abdel-Hamid is not on hunger strike, she said that she would have participated if it were not for a medical condition.
"Wadi' is not from Dakahliya, but we are doing this in solidarity with him," she said. "His mother has been on hunger strike for a week. She is at the stairs of the Lawyers' Syndicate in Cairo," Abdel-Hamid said. Sana' Sa'ad, Wadi's mother could not be reached for comment.
Abdel-Hamid added that the strike is not just held for First Lieutenant Mohamed Wadi' who was arrested after taking part in protests held on 8 April, 2011 but for the rest of the military officers who took part in three separate protests in support of the revolution.
"The hunger strike is for five officers who remain behind bars and for the rest of the officers who were released from prison but were never allowed to return to their ranks," Abdel-Hamid said..
President Mohamed Morsy issued a law on Monday night which will secure, within a month, the release and amnesty of all political detainees who were arrested during the transitional period, which ended on 30 June.
Morsy's legal adviser, Mohamed Fouad Gadallah, said that the decision will  include anyone who was arrested while participating in the revolution, including people with criminal records and including the military officers who were arrested for supporting the revolution.
Abdel-Hamid had believed that the military officers would not be included in the law but said in response to Gadallah's statements, "I hope so, in that case, we will not continue the strike. It will be suspended because our demands will have been met," she said.
The 8 April Officers is a term used to refer to about 30 army officers who were arrested after taking part in three separate protests. Most of them were arrested after they took part in protests held on 8 April, in what was dubbed as the Friday of the "trial and cleansing" held after fears had begun to emerge that the Supreme Council of the Armed Forces was not acting in the best interests of the country. A few more were arrested for taking part in protests in May and in November, 2011.
All of the officers arrested for taking part in the protest on 8 April were released except for Mohamed Wadi', who's sentence to one year and half by a military court was ratified last week. Several groups sprung up in support of these military officers, trying to pressure officials into releasing them by holding marches and gathering signatures for their release.