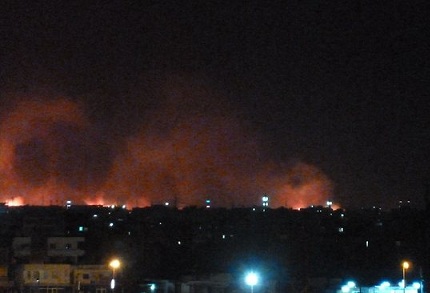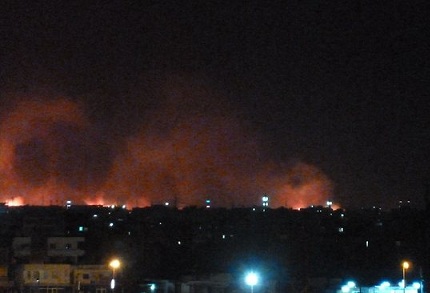 The Union of Arab Doctors, an Egyptian based relief organisation, sent a delegation to Sudan to visit the site of a factory bombing in Khartoum. The Egyptian group was led by Gamal Abdul Salam, head of the group's Emergency and Relief Committee, and was sent to show solidarity in the wake of what Sudan is claiming to be an aerial attack by Israeli forces. The Israelis have so far refused to comment.
Hossam Mo'ness, a founding member of the Popular Current, a new group seeking to break from the Islamist and ex-regime dichotomy, said that his group sent one member, Mohammed Sulieman, to Khartoum with the delegation on Monday. "They are going to give the message that the Egyptian people are with the people of Sudan against these attacks," said Mo'ness.
Despite reports of numerous other Egyptian parties joining the delegation, most denied participating.
Mo'ness said Al-Dostour Party was joining them. However, Ahmed Al-Hawaly refuted that saying, "we did not want to show any sign of support for the regime of Al-Bashir." Omar Al-Bashir is the president of Sudan and is wanted by the International Criminal Court to face charges of war crimes and genocide.
The group in Sudan was scheduled to visit the factory where the bombing occurred, but was not set to meet with any Sudanese officials.
Founding member Mahmoud Nasser and field organiser Walid Jibril confirmed that Al-Dostour Party has thus far shied away from addressing the Sudanese bombing.
Despite media reports, the Freedom and Justice Party, the Building and Developing Party, and Social Democratic Party declined to join the delegation.
The Union of Arab Doctors focuses on relief and development projects in some of the region's most volatile areas such as Gaza and Somalia.
Egypt released a statement saying they condemned the attack and supported Sudan's right to retaliate, but stopped short of blaming Israel.
Last week AFP reported the bombing of the military factory in Sudan, which was blamed on Israel. If proven correct, the accusation would not only imply an attack on a sovereign state, but also the possible violation of Egyptian or Saudi Arabian air space. While Israel did not confirm or deny the accusations, they reasserted their belief that munitions manufactured in Sudan are smuggled through Egypt to militants in Gaza.