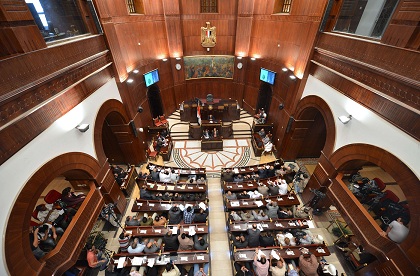 By Ibrahim Al-Masry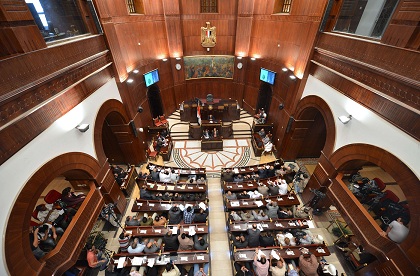 Parties with members in the Constituent Assembly held a meeting on Tuesday in an attempt to reach a consensus on the constitution's most controversial articles. Islamist and civil groups failed to reach agreement after five hours and postponed negotiations to next week.
Each faction of the committee was expected to submit written proposals to the Assembly's Coordinating Committee to settle controversial issues. Mohamed Kamel, a member of the Assembly and Wafd Party, and Gamal Gabriel, a constitutional lawyer and member of the drafting committee, submitted proposals to delete the article stating men and women having equality in accordance with Islamic law. They proposed articles guaranteeing equality based on "citizenship and nondiscrimination."
Another proposal suggested keeping the same phrasing as the 1971 constitution, adding a part detailing women's political, social, and economic rights. This was supported by representatives from Salafi parties.
The meeting ignored calls by Salafi and civil forces for demonstrations against the first draft constitution. Most of these demonstrations addressed the rights of women in the draft, with less attention on the rights of children and the problem of human trafficking.
The drafting committee will meet on Saturday to review the role of the judiciary, the military, and local and national security.
Al-Nour Party representative and member of the Constituent Assembly, Younis Makhyoun, said all proposals would be under consideration and the final articles have not yet been determined.
Mohamed Anwar Al-Sadat, leader of the Reform and Development party, said he advocated proposals to reduce the powers of the president in the draft.
The Muslim Brotherhood's Freedom and Justice Party plays the role of the mediator to conclude disputes over the draft constitution.
Morsy's constitutional declaration in August claimed if the Constituent Assembly failed to reach a consensus six months after its formation, he would form another assembly within 15 days. The deadline set in the declaration is set for mid-December, as the assembly was formed on 13 June.