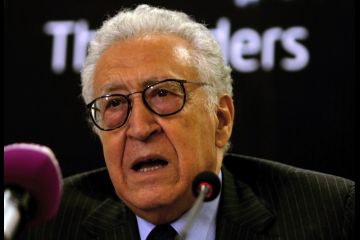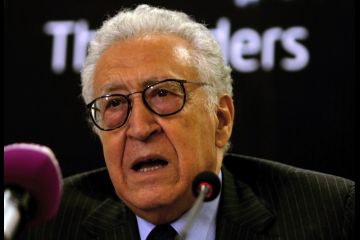 Lakhdar Brahimi, UN-Arab League special envoy for Syria, arrived in Cairo on Thursday to talk with officials about the ongoing crisis. The envoy's latest visit to Cairo comes at the heels of a trips to Russia and China in which he discussed ways to diffuse the situation with officials in Moscow and Beijing.
Brahimi will meet with Arab League secretary-general Nabil Al-Araby during his trip that finishes on Saturday, reported state-owned MENA.
During Brahimi's visit to China, Chinese Foreign Minister Yang Jiechi proposed a four-point plan for the "settlement of the Syrian issue." The plan called for a ceasefire pending talks, for different factions to "empower interlocutors" to work with Brahimi, for the international community to strongly back the efforts of the UN-Arab League envoy, and the increase of provisions of humanitarian assistance by the international community into Syria.
"China has made unremitting efforts together with other members of the international community for the just, peaceful, and proper settlement of the Syrian issue," said Jiechi. Since the outbreak of the conflict China and Russia have vetoed three security council resolutions calling to pressure the government of President Bashar Al-Assad to halt the violence that has killed tens of thousands in Syria and displaced many more.
Despite calls for a ceasefire in Syria during Eid Al-Adha the violence continued. Diplomats had hoped that while in effect the ceasefire could have been used to ameliorate tensions and clashes within the country in what Brahimi called a "modest" initiative.
Brahimi is expected to report back to the United Nations this month with further proposals and solutions.
The Syrian Observatory for Human Rights reported more than 130 deaths on Wednesday during clashes, including 55 civilians mostly concentrated in Damascus and Aleppo.