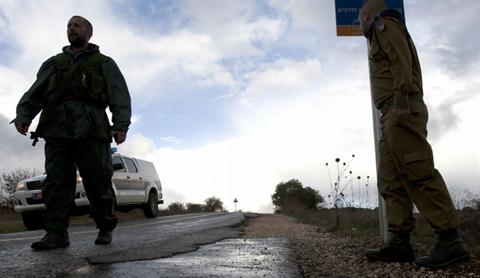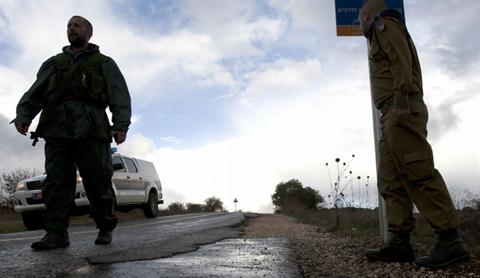 Jerusalem (AFP) – Israeli troops fired tank shells into Syria on Monday, confirming "direct hits" on the source of a mortar round that struck the Golan Heights as tensions flared along the ceasefire line.
The exchange marked the second straight day that Israeli troops have been drawn into the Syrian conflict and came just hours after an appeal for restraint from all sides by UN chief Ban Ki-moon.
On Sunday, Israeli troops fired a warning shot across the UN-monitored ceasefire line in response to Syrian fire, in the first instance of Israeli fire directed at the Syrian military in the Golan Heights since the 1973 war.
Monday's incident came shortly after a Syrian mortar round struck near an army post in the Israeli-occupied Golan, the military said, warning that any further shooting would be answered with "severity."
A military statement said that a mortar round hit an open area near an army post in the central heights, causing no damage or injuries.
"In response, IDF [Israel Defence Forces] soldiers fired tank shells towards the source of the fire, confirming direct hits," it said.
"Syrian mobile artillery was directly hit," a military source added, without elaborating.
The military statement warned that any further shooting from Syria "will not be tolerated and shall be responded to with severity."
Israeli Prime Minister Benjamin Netanyahu said that his government was keeping an eye on developments.
"We are closely following what is going on and will respond appropriately," he told an audience of diplomats in the southern Israeli town of Ashkelon. "We will not allow our borders to be violated or our citizens to be fired upon."
The incident on Sunday, which came after a Syrian mortar round hit an Israeli army position, drew a warning from Defence Minister Ehud Barak that Israel would take "tougher" action in response to any new fire.
"Syria has been in the midst of a brutal civil war for over a year, and the IDF has been instructed to prevent the battles from spilling over," he said in a statement.
"Additional shelling into Israel from Syria will elicit a tougher response, exacting a higher price from Syria," he warned.
After the exchange, Ban's spokesman Martin Nesirky said the UN chief was "deeply concerned by the potential for escalation."
"He calls for the utmost restraint" and urges both sides to uphold the 1974 accord which set up the ceasefire line and surrounding demilitarised zone.
Fears of a spillover of the conflict, which has ravaged Syria for the past 20 months and left tens of thousands dead, have widened as violence has spread to Syria's borders with Turkey, Lebanon, Jordan and Iraq.
On Thursday, three stray mortar rounds from Syria hit the Golan, which Israel seized from Syria in the 1967 Middle East war and annexed in 1981 in a move never recognised by the international community.
And on Monday, an Israeli military vehicle patrolling the buffer zone was hit by stray Syrian gunfire.
Israel complained to the United Nations Security Council over the incident, and an earlier one in which three Syrian tanks entered Bir Ajam village, five kilometres southeast of Quneitra, in the demilitarised zone.
Since Israel and Syria signed a 1974 agreement on security in the buffer zone, a 1,200-strong unarmed UN force has patrolled it.