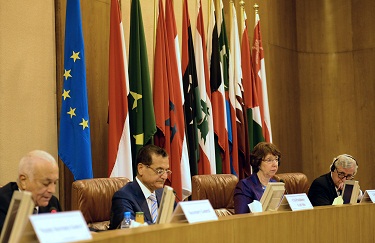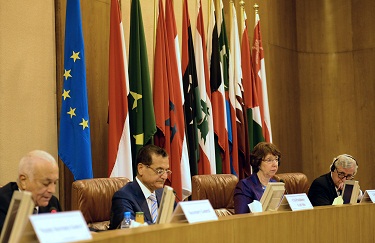 The European Union is in Cairo to talk politics, economics and the future of Egypt. High Representative of the Union for Foreign Affairs and Security Policy Catherine Ashton is leading the Egypt Task Force, which is holding a Tuesday summit as well as other meetings to facilitate dialogue between Egyptian representatives and their European counterparts.
"It's economics meets politics," said Michael Mann, the chief spokesperson for Representative Ashton." We're trying to bring them all together under one hat. The idea is that at the starting point of a successful political transition, you need economic stability."
The task force is a recent EU initiative. While similar task forces have taken place in Tunisia and Jordan, Egypt's is considerably larger. The idea was born out of a revamping of European policy, born partly by the Arab revolutions, toward the EU's eastern and southern neighbours. As Mann put it, "the more countries reform, the more they can hope to receive assistance and cooperation from the European Union."
The centerpiece of the Egypt Task Force is a Business and Tourism Summit in Cairo on Tuesday. However, Mann said important meetings will be taking held outside the summit, including one between civil society representatives and another between members of the Shura Council and the European Council. Said Mann, "the whole idea of this is to reach out to the counterparts between the EU and Egypt. There are more than 120 European business leaders here, so there will be plenty for them to talk about."
In addition to this private sector activity, there is an effort to get various actors in the economic sector under one umbrella. The EU, its member states, European banks, and international financial institutions are attempting to work together for Egyptian assistance. Mann said new pledges from this cooperative will come out in the coming days.The morning discussions focused on politics, with an emphasis on EU representatives listening to Egyptians, both from government and civil society.
"We very much support the transition," said Mann. "But there is lots of work to be done."
When asked about the new constitution, Mann made sure to say the EU was not trying to meddle in the process. Rather, the EU believes that a new constitution should respect the aspirations of those who rose up to overthrow Hosni Mubarak. "We believe that human rights, the rule of law, the role of the press, and women's rights all need to be a part of the constitution. Women were very involved in the uprising and they need a full place in the new constitution.
"The point we would make is that it is only for the Egyptian people to draw up their constitution. But we would also say that we believe in the values the EU was founded on and we think those should be reflected in the constitution."