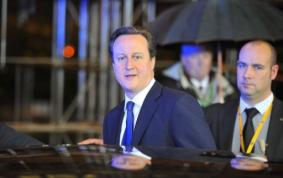 London (AFP) – British Prime Minister David Cameron is keeping an open mind about the regulation of the press, his office insisted Saturday, after a newspaper report claimed he would reject full-blown state regulation.
British newspapers are nervously awaiting the publication on Thursday of the first results from an extensive judge-led inquiry into press standards which could result in tougher regulation of the industry.
The Mail on Sunday reported that Cameron would beef up the current system of self-regulation and replace the Press Complaints Commission, which is staffed by newspaper editors.
The newspaper said Cameron would stop short of tougher measures, but would hold out the threat that a statutory system could be brought in later if the behaviour of the press fails to improve.
But Downing Street played down any suggestion that Cameron had already made up his mind on the Leveson report, named after the judge who is leading the inquiry, which is supposed to remain secret until Thursday.
Cameron and a handful of senior government figures will see it on Wednesday to allow them to prepare their response.
A Downing Street spokesman said, "the prime minister is open-minded about Lord Justice Leveson's report and will read it in full before he makes any decision about what to do."
Victims of press intrusion are calling for the introduction of an independent regulator, with the backing of the law, while editors have warned that statutory regulation would limit press freedom and hamper investigative reporting.
Cameron set up the inquiry in July last year in response to revelations that the Rupert Murdoch-owned News of the World hired a private investigator to hack the phone of murdered schoolgirl Milly Dowler after she disappeared in 2002.