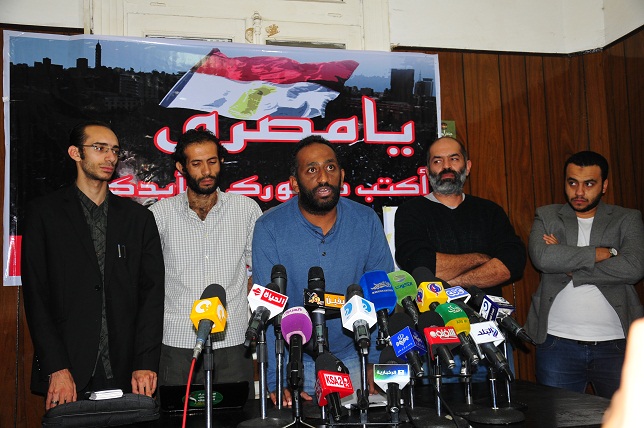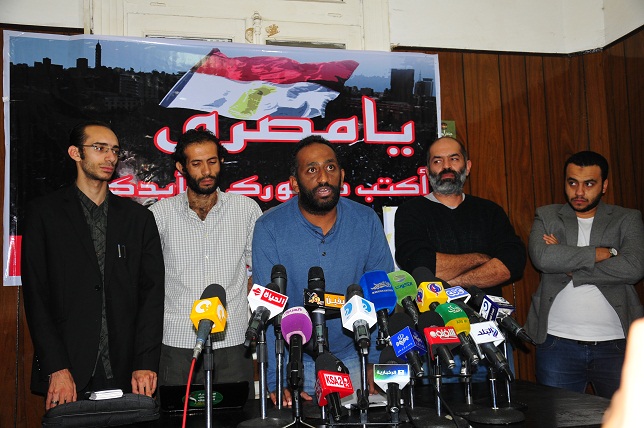 Eighteen political movements agreed on Monday to continue their sit-in at Tahrir square until the constitutional declaration issued by President Mohamed Morsy on Thursday is revoked.
The declaration granted Morsy sweeping new powers, his opponents accuse him of abusing the legislative power he holds in the absence of a lower house of parliament.
"Every day we die defending our revolution against all tyrants, whether old or new," Khaled Abdel Hamid, member of the Social Popular Alliance Party (SPAP), said in a press conference held at the party's headquarters.
Three marches are to take place on Tuesday afternoon, precisely at five pm. One shall start from Mustafa Mahmoud mosque in Mohandiseen, the other from Shubra roundabout and the third from Al-Fat-h mosque in Ramses. All are headed to Tahrir square.
Two extra marches shall take off at one pm; one from the Lawyers' Syndicate and the other from the Press Syndicate.
"The constitutional declaration transforms Egypt's first democratically-elected president into a dictator, pharaoh and tyrant who puts himself above all institutions, reserving all legislative and executive authorities for himself," a statement released during the press conference read.
Morsy issued a presidential statement Saturday stating that issuing the declaration was mandatory to put all those involved in Mubarak's era corruption, to justice. The statement added that the declaration is only temporary, confirming on its responsibility to engage all political factions in constructive dialogue to reach consensus over the constitution currently being drafted by the Constituent Assembly.
"Why would I believe the president's claims about the declaration being temporary?" Mohamed Waked, member of the National Front for Justice and Democracy (NFJD), said during the press conference. Waked added that Morsy had promised before being declared president that he would restructure the Constituent Assembly, but ended up making it immune to dissolution through his latest declaration.
Dissolving the Constituent Assembly is one of the demands all political powers currently sitting-in in Tahrir square are pushing for. Among other demands are; revoking Morsy's declaration, immediately beginning the process of reforming the Ministry of Interior, and achieving swift justice for the victims of the revolution "through transitional justice and not through the Revolution Protection Law which was drafted to wipe out the revolution."
Morsy's declaration passed a decree ordering the retrials of those accused of killing protesters and a "Revolution Protection Law," which opposition has compared to the ex-regimes repressive "emergency law."
The retrials and reopening of investigations of those who killed protesters under the former regime is planned to be carried out by a body named the "Revolution's Prosecution," which will include members of the public prosecution along with investigating judges from the Ministry of Justice.
A group of families of protesters killed during the revolution met with the newly-appointed prosecutor general, Tal'at  Abdallah, to understand how justice for their killed shall be served.
"The prosecutor general told us there's nothing he can do and that if we have any evidence regarding how our relatives were killed, we should submit it," Sami Al-Qamhawi, the brother of one killed protester, said.
The Ministry of Interior is accused by revolutionary forces of having destroyed all evidence regarding the killings.
"Reforming the Ministry of Interior is one of our most important demands," rights lawyer Ragia Omran said, adding that the ministry hasn't changed despite the presence of a democratically-elected president.
Omran announced that 350 arrests have been documented since the beginning of the clashes in Mohamed Mahmoud street on 19 November. 150 of those arrested were released. Some of them were minors who were arrested "with their school bags."
"Unfortunately, we now start numbering Mohamed Mahmoud clashes," Omran said. "I remember that last November, we held a similar press conference, where we announced the number of those arrested during the first Mohamed Mahmoud clashes."
Two of those arrested last week spoke during the press conference. Ahmed Atef, who was arrested on 19 November, stated that he was beaten so badly upon his arrest; the officers especially focused their violence on an old wound, Atef claimed. His finger was also broken as he tried to protect his wound with his arms and hands. He said he received bruises all over his body. Ahmed said he took part in the protest, but some other passersby, who had nothing to do with the protests, were arrested with him. He added that during his first night in jail, he was crammed in a cell with 190 other detainees.
"One quarter of the detainees were minors crying to the officers not to leave them alone inside," Atef claimed.
Another detainee, Hend Oufa, claimed that upon her arrest, she was taken to a room where there were surveillance cameras monitoring Tahrir square and its exits.
The press conference was taking place almost at the same time as the funerals of the two victims of recent clashes started. Gaber Salah, member of 6 April movement and Al-Dostour party, was pronounced dead Monday night after being brain-dead for a week. Islam Masoud, reportedly a Muslim Brotherhood affiliate, was also pronounced dead Monday night, while clashes continued in Damanhour.
The political forces held Morsy responsible in their statement for the violence which led to both deaths, alongside Hesham Qandil's cabinet and especially the Ministry of Interior.
"What happened in Damanhour yesterday is a sign of a civil war," Waked said, referring to fighting between the Muslim Brotherhood and protesters belonging to "civilian forces" which left over 76 injured.
The statement was signed by the Popular Current, Al-Dostour party, the SPAP, the Egyptian Social Democratic Party, the Revolutionary Socialists and 6 April movement (Ahmed Maher and Democratic fronts), among other political movements.
Fighting between the security services and protesters has been ongoing in Mohamed Mahmoud street since 19 November. Qasr Al-Aini street and Simon Bolivar streets are currently the most violent, where tear gas and bird shots are used to disperse the protesters. Protesters started a sit-in in Tahrir Square on Friday. The sit-in's main demand is to revoke Morsy's constitutional declaration.