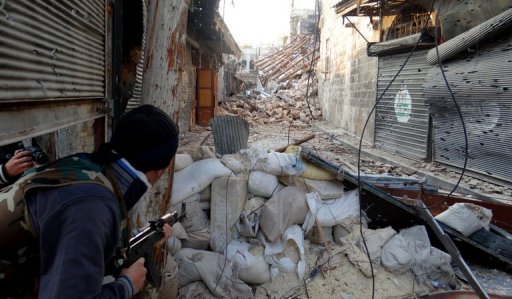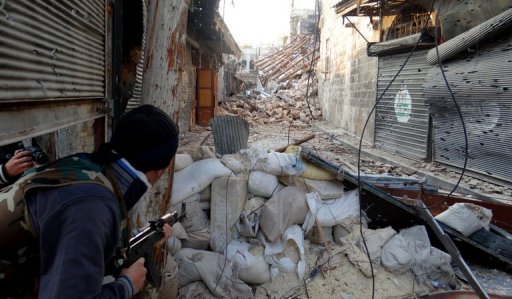 Beirut (AFP) – Syrian troops shelled a besieged town near Damascus and clashed with rebels on the outskirts of the capital on Saturday as the country's conflict entered its 22nd month, a watchdog and activists said.
The Syrian Observatory for Human Rights reported fierce battles as the army sent in reinforcements and tried to storm the town of Daraya on different fronts.
Army artillery gunners were pounding the town, southwest of Damascus, the monitoring group said, after activists reported that troops had used rocket launchers and heavy artillery on Friday.
"This is the 28th day the criminal Assad forces have attempted to break into the town," read a statement from activists in Daraya.
Troops tried to storm the town from several directions, but the Daraya Martyrs battalion, a unit of the rebel Free Syrian Army, has kept them at bay, the activists said.
Air and artillery bombardments have focused on Daraya and the nearby town of Mudamiyeh in recent weeks, raising fears of a major ground assault.
Daraya "remains isolated from the outside world due to a communications and power cut for the past 37 days. With ongoing fuel cuts, there is an urgent need for supplies to be restored as winter sets in," they said.
Clashes also erupted in the Palestinian camp of Yarmuk in the south of the capital on Saturday between rebels and troops backed by pro-regime Palestinian fighters, the observatory reported.
The outskirts of Damascus have been at the heart of fighting this month as the regime launches operations to reclaim territory within eight km of the city.
Overnight, the watchdog said, two explosions were heard in the southern Qadam neighbourhood, several mortar rounds hit the Barzeh district in the northeast and army artillery targeted northeastern suburbs.
In northern Syria, fighting broke out around the air force intelligence branch in the Zahraa district of Aleppo city, according to the observatory, which relies on a nationwide network of activists and medics.
And in the southern province of Daraa, where the anti-regime revolt was born 21 months ago, rebels and troops clashed in the towns of Sheikh Maskin and Izraa, as villages and towns came under army shelling.
The Observatory said 92 people were killed in violence across Syria on Friday, a third of them in and around Damascus.
A total of more than 43,000 people have been killed since the uprising against President Bashar Al-Assad's rule erupted in March 2011, according to the observatory's figure.