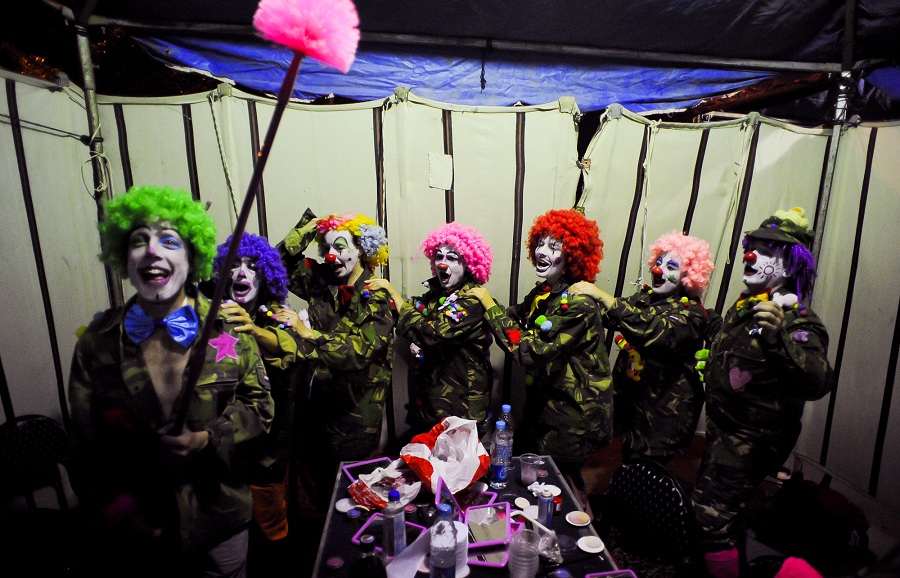 Egypt's Art&Culture scene flourished in 2012. From music, contemporary dance to photography, festivals and exhibitions of paintings, the underground scene grew exponentially.
Many artists quote the revolution as their inspiration and controversial subject matters were seen more than ever before. Artists in Egypt have become more outspoken and the diversity in their work made for a vibrant, surprising and entertaining year. Here are some of our highlights of 2012.
Metal music in for some heavy weather
Adel Heine spoke to the metal community after allegations of devil worshipping were made
Wael Osama, founder and manager of heavy metal band Enraged seemed upbeat and laughed during our conversation, yet this did not mean he thought the resurfacing of the devil worship accusations are meaningless. "I was expecting that something like this could happen in the future, but I did not think it would be this soon.
No matter how absurd the accusations are, the fact they are brought by a well known lawyer from the FJP will generate a big amount of bad publicity with possible serious repercussions."
Bergamon: Egypt's last Rango player
Omar El Adl spoke to Hasan Bergamon, who plays on the only Rango instrument in Egypt, if not the entire world.
Bergamon explained that its spiritual aspect comes from the music itself, which puts you in a 'trance-like' state and which creates a spiritual mood just by listening to it. "It has power over you.
The instrument cannot just be manufactured anywhere," he said, "you can give the specifications to a factory but it would never sound the same." Tradition also hindered its popularity, since Rango players usually do not like outsiders filming or documenting concerts, except when a substantial trust has been established between both sides.
Rana Muhammad Taha reviewed an exhibition in the Mashrabia Gallery
The process that preceded the exhibition was simple: "We went down strolls together, Mauro L'Abate and I, mostly in Zamalek, and when we would spot interesting chairs Mauro would take pictures of them," Consuelo Costa describes. "Then I would go home and take a thorough look at every photo. I would close my eyes and tell each chair: tell me your story. And they did." In the exhibition the pictures of the chairs are surrounded by printed text, in which Costa tells the stories different chairs.
Puzzling and confrontational art at TransDance
DNE provided extensive coverage of the TransDance Festival
Last Friday night, as part of the TransDance Festival, Lilibeth Cuenca engaged the audience in a performance that reenacted famous performance art pieces that created an uproar in the 1960s and 1970s and left some in the audience amused and others with their expectations challenged.
"None of these pieces have ever been seen in Egypt, or anywhere in the Arab speaking world, we only know the outcome of the change they initiated. By asking Cuena to reenact some of the famous pieces the audience got to experience a live performed trip through history," said Adham Hafez, the director of TransDance.
CirCairo: Cairo's circus festival returns
By Omar El Adl
After the success of 2010's CirCairo, the international Circus Festival is back to bring the charm and the long-forgotten magic of the circus to three Egyptian cities: Cairo, Mansoura and Monoufeya. The shows included both traditional and modern forms of circus entertainment, and feature acrobatics, fire shows, magic and comedy shows.
"The establishment of the Darb Al-Ahmar Arts School in 2010 was one of the things that encouraged us to revive this tradition. We have a strong national circus, but unfortunately they lack funding," said Wessam Ragab, press and communications officer from orgaisers Al Mawred.
Satirical play targeted by censors
Omar El Adl found what the censors objected to in a new play
Mohamed El Sharkawy's play Asheqeen Torabek, or In Love with Your Soil, revolves around the revolution. Commentary on the current state of Egyptian politics is crucial to the play's narrative.
Sharkawy was informed that the censors took issue with scenes in which actors wear long Salafi-style beards and one where Prime Minister Hesham Qandil is mentioned by name in a satirical manner.
"The censorship committee did not officially take any action against the play, but rather they informed me in what they called a 'friendly manner' what was to be removed," said Sharkawy.
Fawanees: the colourful world of Ramadan lanterns
Rana Muhammad Taha discoverd the world of fawanees
The streets of Cairo – and the rest of Egypt – are transformed during the holy month of Ramadan. Dangling from balconies, lightning up entrances of buildings and strung across streets – the special lanterns, the fawanees, are the heart of the Ramadan decorations.
The Al Hossein area of Cairo, and across the street from the Khayameya tentmakers alley I found a true treasure trove. The wide street was transformed into a scarf with an embroidered border as stalls lined the road filled with authentic lanterns in a riot of colours and gleaming metal in all sizes and shapes.
Mosireen: The truth will set your revolution free
Omar El Adl explored all that film-collective Mosireen has to offer
The idea behind Mosireen is clear: supporting citizen journalism of all kinds. "We film the ongoing revolution, publish videos that challenge state media,narratives, provide training, technical support, equipment, organise screenings and events, and host an extensive library of footage from the revolution," said Salma Said.
The goal may be clear, but it is general enough to include many people that feel welcome under the umbrella of Mosireen's philosophy. "The name itself comes from a play on the Arabic words for 'Egypt' and 'determined,'" Said said.
A successful crowd-sourcing campaign raised enough money to keep Mosireen open and independent for another year.
Abdel-Rahman Sherief talked about the traditions of karamat and waliyys.
Karamat, or miracles, are extraordinary acts that are believed to be performed by waliyys. A waliyy is a righteous Muslim man, known for his piety, devoutness and closeness to Allah. Many Sufis and other Egyptians believe in the existence of karamat.
"Karamat are real and more evident than the moon and stars at night," said Sheikh Hassan Rashwan, head of the Sufi Refaei order in Luxor.
Special Sufi rituals like hadra are held inside waliyys' shrines to ask for blessings and intercession.