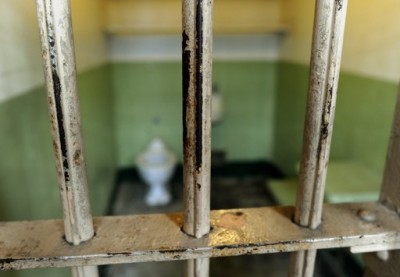 Lawyers from several human rights organisations have filed a complaint with the east Alexandria attorney general against the interior minister and the prisons authority chief as well as the warden and police officers at Hadra prison, over the torture and sexual assault of two detained men.
The Egyptian Centre for Economic and Social Rights, the Hisham Mubarak Law Centre, Al-Nadeem Centre for the Rehabilitation of Victims of Violence and Torture, and the Egyptian Initiative for Personal Rights all filed the complaint.
The complaint was primarily filed against two officers; Sherif Shalaby and another identified only as Mahmoud. The rights organisations are accusing Shalaby and Mahmoud of violently beating and sexually assaulting two brothers, Mostafa and Ahmed Mostafa.
The officers allegedly beat and sexually assaulted the men in front of other officers and prisoners in the presence of the prison warden, who did not attempt to stop them.
Mostafa Mostafa later attempted suicide, said the lawyers in their memo.
Torture was an endemic problem under former President Hosni Mubarak police force, and the habit carries on until today.
The death of Khaled Said, considered by many one of the sparks of the 25 January 2011 uprising, was tortured and beaten to death by two police officers in Alexandria in 2010.
Following the All Saints Church bombing of new year's eve 2011, police tortured and beat to death Salafi youth Sayed Belal.
After the uprising and during the transitional period under the rule of the Supreme Council of the Armed Forces torture became a prominent issue. The many clashes with military personnel that marked the frequent protests and sit-ins of that period where often followed by allegations of torture.
In October 2011 Essam Atta died in prison after being subjected to what rights groups say were violent torture sessions. Atta was imprisoned following a military trial in February of that year.
The situation did not change after the inauguration of an elected president. There were 88 cases of torture reported during President Mohamed Morsy's first 100 days in power according to an Al-Nadeem Centre report.
In November 2012 another person, Saad Said, was killed in police custody. The forensic pathologist said the cause of death was a cerebral edema caused by a blow to the head. The preliminary forensics report noted bruises and wounds on Said's body.