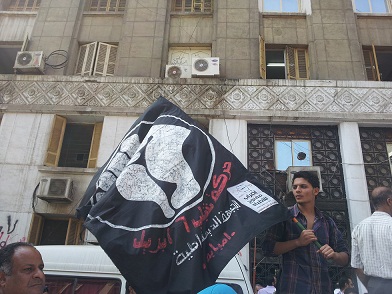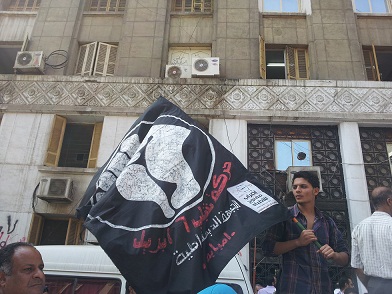 The court case against three April 6 youth movement members accused of insulting the president resumed on Sunday. The trio; Abdo Osama, Mina Roshdy and Ahmed Sayed are accused of spraying graffiti over a poster of President Mohamed Morsy in Minya.
On Saturday the movement's spokesperson Mohamed Adel confirmed they were providing the defendants with legal assistance, and said he was confident the defendants would be released.
On Sunday Osama explained how he was detained by Muslim Brotherhood members. The incident occurred on the day of the funeral of slain protester Gaber 'Jika' Salah on 26 November.
Osama, Roshdy and Sayed participated in the funeral procession and a protest that followed. Osama said in Al-Mahatta Square the three covered a large poster of Morsy with graffiti of Salah.
"Thirty people we recognised as Muslim Brotherhood came to stop us," Osama said. The men detained the three in their headquarters, one street behind the square, where the three were assaulted. "The protesters knew we were there and proceeded to move to the headquarters, shouting and cursing.
"When the police arrived they threw teargas to disperse the crowd, and then proceeded to take us to the police station," Osama said. At the station the police showed them a report accusing them of insulting the president, but no further action was taken until last Thursday when they were notified of their trial. On Saturday, where the trio expected their first hearing, the judge failed to appear, postponing the trial until Sunday.
The trial is expected to start at 1pm. Osama however, believes the trial will be postponed and kept pending.