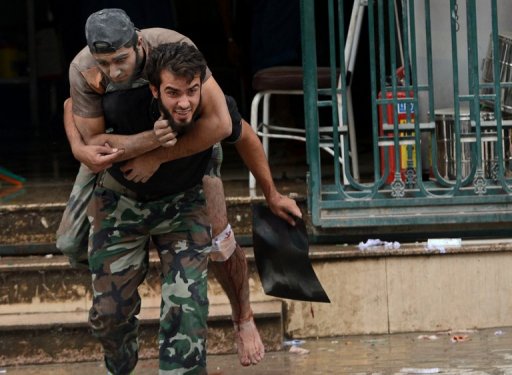 Damascus (AFP) – Universities were closed across Syria on Wednesday to mark a day of mourning called after twin blasts tore through an Aleppo campus while students were writing exams, killing at least 87 people.
The Syrian Observatory for Human Rights warned that the toll from Tuesday's blasts in Syria's war-ravaged northern commercial capital could rise beyond 100, making it one of the bloodiest attacks in Syria's 22-month conflict.
No one has claimed responsibility for the blasts, but the government and rebels have blamed each other.
Opposition activists said government jets had carried out an air strike on the campus, but a military official said ground-to-air missiles fired by rebels had fallen short.
State television said "terrorists launched two rockets" at the campus.
The university lies in a government-controlled area of the battleground northern city, which has been wracked by violence since last summer when regime forces launched an offensive to halt a rebel advance.
The Local Coordination Committees, a network of grassroots activists, said the timing of the attack showed that the blasts were "part of a systematic plan to inflict as many casualties as possible in the university.
The Observatory on Wednesday updated its earlier toll of 82 people dead.
"The number of people killed in twin blasts on Tuesday has risen to 87," it said.
"That number is likely to rise to 100 as body parts continue to be identified," the Britain-based monitoring group said, adding that around 150 people were wounded, some of them critically.
Immediately after the Aleppo University blast, the education minister called for a nationwide "day of mourning" and said President Bashar al-Assad ordered the "immediate rebuilding of damaged parts of the university," state television reported.
Elsewhere in Syria on Wednesday, the army sent reinforcements to the town of Daraya, southwest of Damascus, as warplanes and rockets bombarded the rebel enclave, said the Observatory, describing the violence there as the worst in several weeks.
"The army's assault is insanely violent. The shelling is continuous, it has been so intense in the past hours. There are many injured people," said Daraya-based activist Abu Kinan.
Clashes raged in the town meanwhile, pitting rebels against advancing troops.
"Every time troops take a new position, the rebels attack them there. That is what makes the clashes so fierce and widespread," said Abu Kinan.
Amateur video posted on the Internet by activists showed a massive tower of smoke rising above the now mostly empty town, which once boasted a population of about 200,000.
Daraya has become one of the rebel Free Syrian Army's main strongholds in Damascus province, after previously being held up as a symbol of peaceful activism against Assad's regime.
Assad's brother and elite Fourth Division chief Maher al-Assad, "has given orders to take control of Daraya even if that should mean destroying whatever buildings remain in the town," according to Observatory director Rami Abdel Rahman.
An army official quoted by pro-regime daily Tishreen downplayed the intensity of operations against Daraya's rebels.
"Military operations have been ongoing for two months in search of gangs," said the official, adding that he had no information on any generalised offensive on Daraya.
More than 60,000 people, mostly civilians, have been killed in Syria's conflict, according to the United Nations, while the Observatory says it has documented more than 48,000 dead.
On Tuesday alone, at least 207 people were killed in violence across Syria, including 137 civilians, said the Observatory.