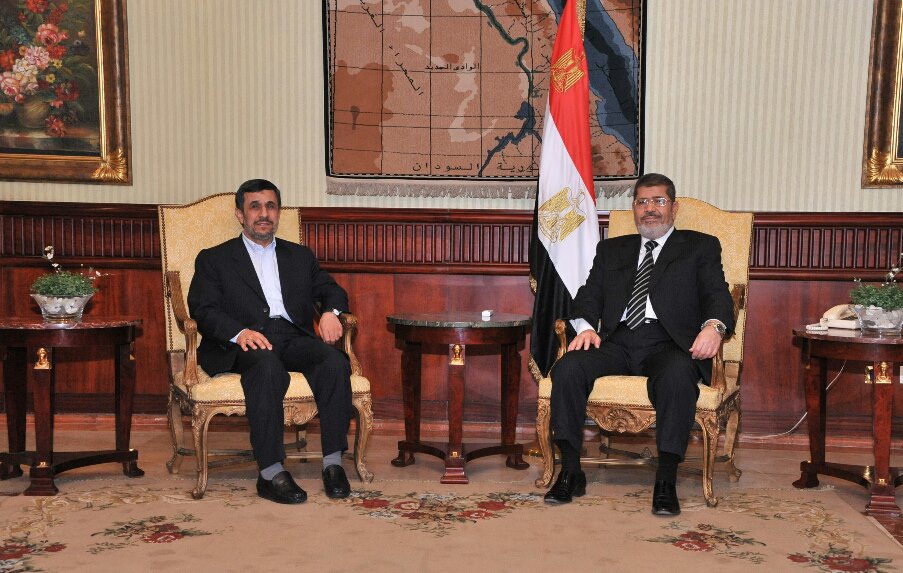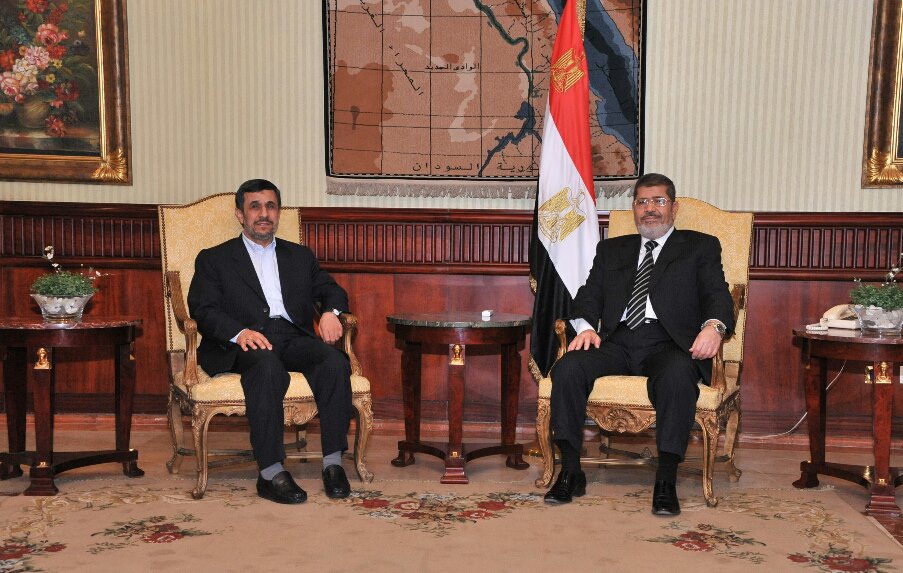 Iranian President Mahmoud Ahmadinejad arrived in Cairo on Tuesday ahead of the Organisation of Islamic Cooperation's (OIC) 12th session. Ahmadinejad's visit marks the first time an Iranian head of state has visited Egypt since the 1979 Iranian Revolution.
After President Mohamed Morsi received his Iranian counterpart at the airport, Ahmadinejad met with Grand Imam of Al-Azhar Ahmed el-Tayeb, a historic visit given the current sectarian divide between Shi'as and Sunnis.
El-Tayeb asked Ahmadinejad to have fatwas issued from religious institutions in Iran against insulting historic Sunni figures such as Al-Sayyeda Aisha, Abo Bakr, Omar, and Othman. He also called on the Iranian leader to guarantee Sunnis in Iran their full rights as citizens and asked Ahmadinejad's government to seek ending the bloodshed in Syria
In a press conference following his meeting with the grand imam, Ahmadinejad stressed that Iran and Egypt both hold prominent positions in global affairs and that he would continue bilateral talks to strengthen relations between the two countries.
Central Security Forces bolstered security around Sayeda Zeinab mosque, as the Iranian president was scheduled to visit the mosque following his presser with el-Tayeb.
The Salafi Calling publicly denounced Ahmadinejad's visit to Cairo and called on Morsi to prohibit the Iranian president from visiting any Egyptian mosques or Tahrir Square.
Morsi visited Tehran last August for the Non-Aligned Movement summit being the first Egyptian head of state to visit Iran since the 1979 revolution. Relations between the two countries had been strained due to a number of factors, including Egypt's participation in the Camp David Accords.
Speaking to reporters before his departure from Tehran, Ahmadinejad told reporters that he looked forward to expanding relations between the two countries. He added that he believed his visit would "definitely affect" the ties between the two nations and that he would seek to lay the groundwork for increased cooperation.
As world leaders continued arriving to Cairo ahead of the OIC summit, Morsi also met with President of the Palestinian National Authority Mahmoud Abbas and Iraqi Prime Minister Nouri Al-Maliki to discuss a wide range of regional issues.