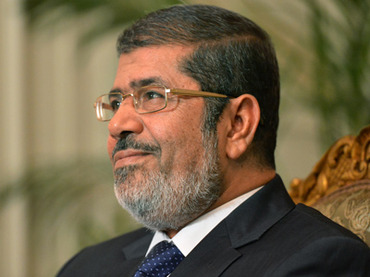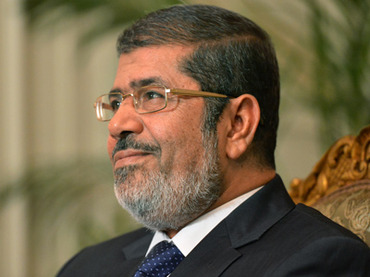 President Mohamed Morsi appeared in a pre-recorded interview late on Sunday, responding to questions regarding powerful figures in Egpytian politics, the presidency's position on judges, the new Minister of Interior, and civil disobedience in the canal cities.
In an almost two-hour long talk with TV anchor and ex-presidential advisor Amr Al-Leithy, Morsi stated that his history with the Muslim Brotherhood's Supreme Guidance Bureau and his leadership of the group's Freedom and Justice Party has its own "effect" on his administration. However, he said that he is "a president for all Egyptians".
In response to questions on whether the Muslim Brotherhood influences his presidential decisions, Morsi said that his "background with the Brotherhood is part of my psychology, humanity and belief". However, he stated that he consults many advisors and influential personalities before taking certain decisions.
Due to the recent wave of resignations amongst presidential advisors and aides, Morsi said that he has become aware of the necessity of consulting as many advisors as possible. "I consulted 150 legal and political experts as well as communicating directly with 30 significant people before calling for a popular vote for the parliamentary elections," he said.
On Saturday, Morsi rescheduled the parliamentary elections from 27 April to 22 April to accommodate Egypt's Coptic Christians.
He repeated his invitation to all political groups to participate in a national dialogue. "I love dialogue. I want dialogue and I carry out all what we agree upon during our meetings," he added.  Morsi said that national dialogue sessions discussing controversial articles in the constitution had been "successful". He highlighted that the sessions had resulted in the cancellation of the 21 November constitutional declaration, the appointment of 90 Shura Council members, and a productive debate on the controversial constitution.
Al-Leithy reminded Morsi of the recent protests calling for his departure. Morsi said that he is a "good listener" and that the slogans are like "alarming bells in his ears", but said there must be a differentiation between a call to "depart as a form of expressing an opinion, or a request to depart as a demand from the people".
"There is a large distance between these," he said, adding that his victory in the elections of 2012 proved his legitimacy.
Morsi denied allegations that he has allocated 12,000 Muslim Brotherhood members to critical positions in state institutions. However, he confirmed that he wants to "control the country's institutions" but through the use of effective and qualified post holders, rather than nepotism.
Al-Leithy and Morsi also discussed the suspension of previous Minister of Interior Ahmed Gamal Al-Din and his replacement with Mohamed Ibrahim. Morsi denied that Al-Din was dismissed for his refusal to protect the Muslim Brotherhood headquarters from protests, and said that Ibrahim was appointed due to "his qualifications and suitability for this stage".
Mentioning the presidency's relationship with the armed forces and the Minister of Defence Abdel Fattah Al-Sisi, Morsi described members of the military forces as his "brothers and sons".
"There is no conflict between the two institutions simply because the armed forces are an integrated part of the presidency. The president is the Supreme Commander of the Armed Forces," Morsi said. He added that Al-Sisi will not be sacked and announced his support for the military and intelligence services, claiming to be constantly "in touch" with them.
Commenting on the civil disobedience taking place in Port Said, the President pledged "to visit the city soon" and said families of those killed or injured will receive a total of EGP 75,000 as financial compensation instead of EGP 35,000. He added that he supports the process of announcing Port Said as a "free trade zone," stating that the Shura Council has received this request and will consider it.
Al-Leithy reminded the president that he had previously pledged never to announce a state of emergency in Egypt. In response, Morsi argued that he was "forced" to announce it by protesters in Port Said, and found the situation as abhorrent as eating "meat of the dead".
Morsi said that dedicated judges will investigate the recent injuries and deaths that have taken place in Port Said following the court ruling of 26 January. He confirmed that results of the investigations will be announced to the public.
On the subject of the foundering Egyptian economy, Morsi said that he would raise income tax exemption levels. Morsi also added that he would waive students from paying tuition in public universities this year.
In late December, Morsi recorded an interview with Egyptian state TV to clarify his position on the constitutional declaration issued on 21 November 2012, in which he granted himself sweeping powers.
His interview with Al-Leithy was scheduled for live broadcast at 8pm according to several Egyptian media channels. It was not aired until 1:40am after a series of patriotic songs and documentaries.