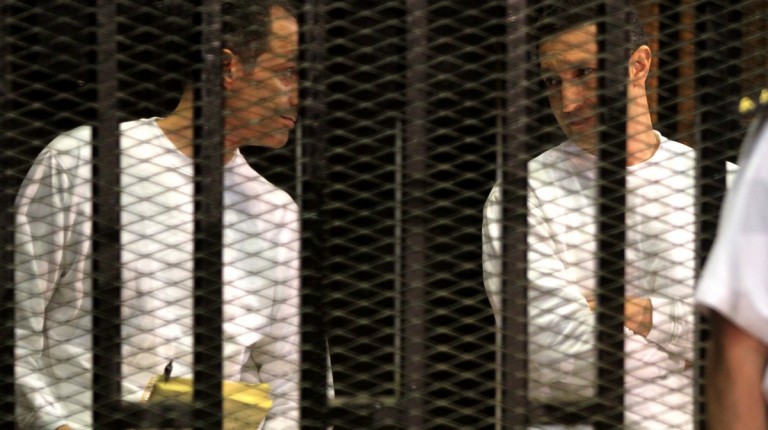 The Egyptian Exchange (EGX) has called on brokerage and securities companies, and investment funds and local custodians, to freeze the accounts of 23 businessmen and prevent them from leaving Egypt, according to a prosecutor general decree announced on Sunday.
The list includes former President Hosni Mubarak's two sons, Alaa and Gamal, as well as EFG Hermes CEOs Yasser El-Mallawany and Hasan Heikal, the son of Mohamed Hassanein Heikal.
The EGX asked brokerage companies to verify that there currently are no transactions for these businessmen in any form, whether in their own name or through an agency or authority or beneficiary fund.
The travel ban and funds freeze is related to the case of stock market manipulation regarding the sale of the Al-Watany Bank (AWB).
The Cairo Appeals Court (CAC) has announced 20 March as the date on which it will consider the Prosecutor Genereal's decree, said Head of the Technical Office at the CAC Essam Farid to state-owned Al-Ahram.
Alaa Hadidi, spokesman for the Cabinet, told Al-Ahram the decree was subject to the judiciary and that the government had no role to play in the matter.
Following the announcement of the decree, The EGX tumbled during the start of Monday's session following a wave of selling from non-Arab foreign investors.
However, the market later rallied.
"The stock market has been affected by the decision of prosecutor general, but just at the beginning of the session," said Eissa Fathy, a stock market expert.
By the end of Monday's trading session, the benchmark EGX 30 index declined by 0.23%, while the broader EGX 70 index for small and medium sized enterprises (SMEs) declined 0.38 %; the EGX 100 dropped 0.187 %.
Fathy added that the case affected the stock market because most of the businessmen implicated in the case are "major investors in the Egyptian market".
"Such a situation will affect the IMF loan agreement," he added.
Mostafa Badr, a stock market expert, said: "Egypt's stock market has been affected by the economic situation for a long time now; it was recently hit with the Orascom case, then this."
He added that this case is likely to negatively affect foreign and Arab investments into Egypt.