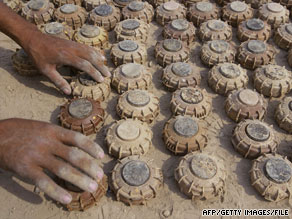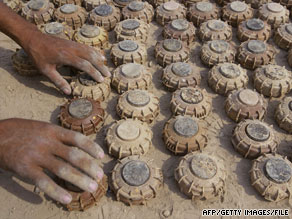 The military and the Ministry of Planning and International Cooperation celebrated on Tuesday the progress of a joint project to clear landmines in the western Egyptian Sahara Desert.
The celebration was held in the city of Alamein located in the northern governorate of Matruh. Minister of Planning and International Cooperation Ashraf Al-Araby, Minister of Housing and New Urban Communities Tarek Wafik, Egyptian military representatives, tribe leaders, and residents of Alamein and greater Matruh attended the celebration.
The military delivered 26,190 acres of land to the Ministry of Housing after clearing them of landmines and other explosive ordnances used during World War II.
The multistage project started on 23 April 2012, according to Major General Effat Adeeb, the deputy chief of the military's Engineering Authority.
"The landmines were hindering development projects planned for the area; they also led to the death of many Bedouins and shepherds," said Colonel Ahmed Ali, the military spokesperson.
He added that the role of the military in the project was to sweep the lands and deliver them to the Ministry of Housing which has prepared a plan to establish a city that can encompass more than one million inhabitants in the area; the plan aims to alleviate the growing population density near the Nile Delta.
The Engineering Authority held a press conference on Tuesday to announce the results of the minesweeping operations.
Housing Minister Wafik said that the Sahara of West Egypt represents 27% of Egypt's land area and that 20% of this land has been swept and cleared of landmines thus far.
He added that the desert land has potential to be used for tourism, agriculture and mining as well as absorbing Egypt's fast-growing population.