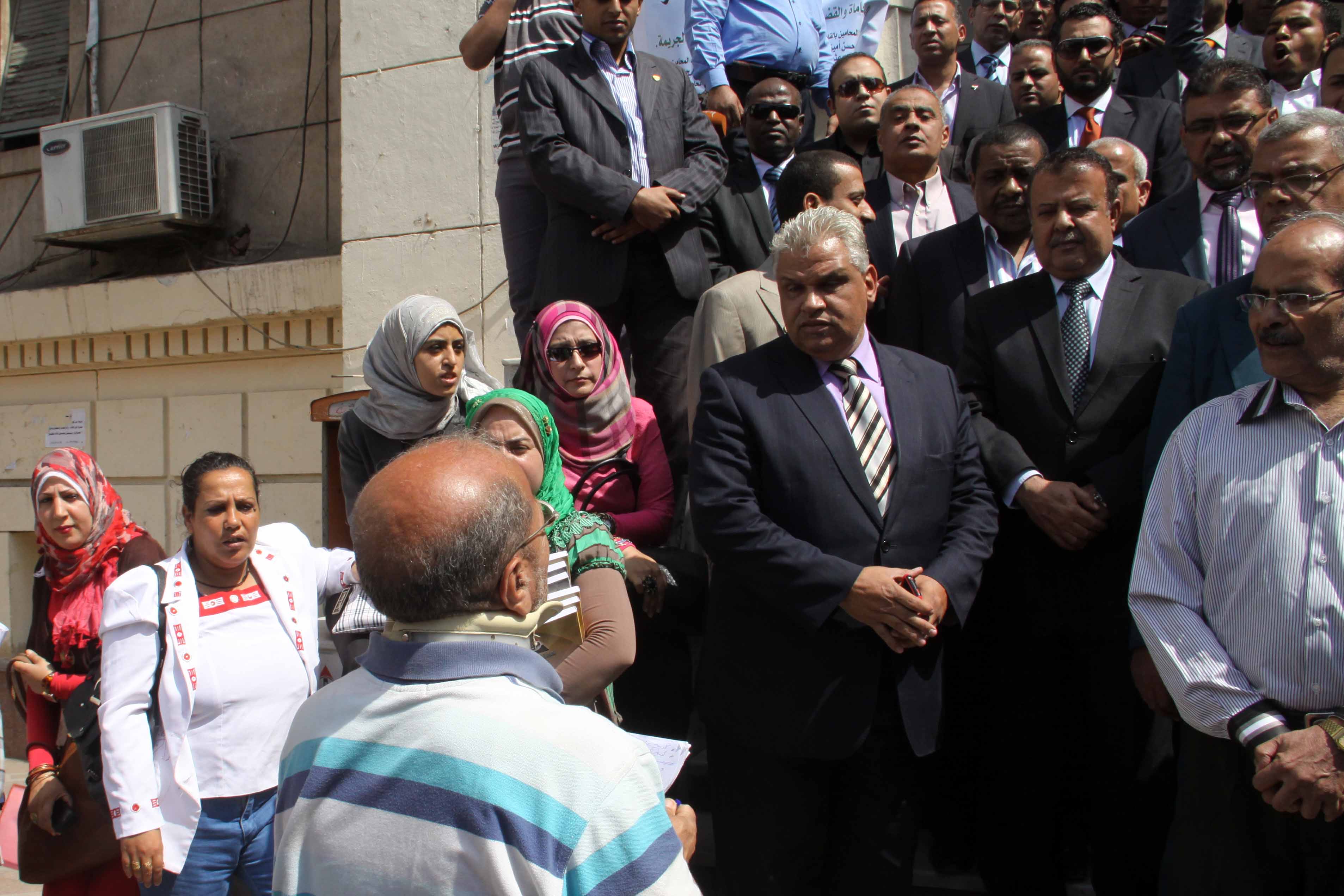 Dozens of lawyers protested outside the General Lawyers' Syndicate on Tuesday, angered by the Ministry of Interior's use of force against lawyers and protesters.
Approximately 1,000 people marched to the High Court building on Saturday to mark the anniversary of the 2008 6 April general strike in Mahalla. Police forces allegedly chased protesters into the syndicate headquarters.
The protest was called for by Sameh Ashour, the head of the general Lawyers' Syndicate and the syndicate's Freedoms Committee.
Ashour called the police's forced entry into the syndicate a "breach of its sacredness". Wa'el Fouda, a member of the South Cairo syndicate committee, said that police followed protesters and lawyers into the syndicate headquarters on Saturday.
"Some lawyers tried to stop the police forces from following them," Fouda said. "It led to skirmishes between the two sides."
Fouda said Ashour called the security director to condemn the attack.
Ashraf Mustafa, a member of the syndicate's Freedoms Committee, said the protest condemned policemen's repeated attacks on lawyers inside police stations. "Lawyers were attacked during recent clashes at Helwan police station," Mustafa said.
The protesters called for the resignation and trial of Minister of Interior Mohamed Ibrahim. They also demanded that Prosecutor General Tala'at Abdallah be removed from his post in accordance with the verdict of the Cairo Court of Appeals deeming his appointment invalid.
Lawyers chanted against the Ministry of Interior, the Prosecutor General, the Muslim Brotherhood and President Mohamed Morsi. Chants were interrupted by skirmishes outside the syndicate gates as pro-Morsi crowds attacked the protest, accusing the lawyers of focusing on Morsi's fall and neglecting to consider the consequences of their demands.
"Mubarak would be out of jail in a week without Morsi," a pro-Morsi demonstrator said. "If that happened, Egypt would be lost."
The Lawyers' Syndicate released a statement on Saturday night holding Morsi responsible for the attacks at the High Court. They announced that they would turn their headquarters into a temporary hospital for those injured in protests.