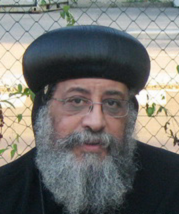 Pope Tawadros II received families of those who died in sectarian violence in Al-Khasous and at St. Mark's Cathedral on Monday.
The victims' families met the pope at the cathedral in Abbaseya, which was the site of turmoil last Sunday following a funeral for victims from Al-Khasous.
The pontiff received seven families in a meeting barred to the press, according to state-owned Al-Ahram, including the families of Helal Saber Helal, Marzouq Atteya Neseem, Morcos Kamal Kamel, Essam Tawadros Fawzy Zachary, Victor Saad Mankarios, Dawoud Makram Kamel, and Mahrous Hanna Ibrahim.
Pope Tawadros returned to Cairo for the first time since the unrest at the cathedral, arriving from Anba Bishoy Monastery on Monday. The pope was in Alexandria when violence broke out last Sunday.
The Coptic Church announced it would receive mourners and those wanting to give their condolences at the cathedral on Tuesday.
Security forces arrested 15 people on Saturday for their alleged connection to last Sunday's events. The Christian family accused to have played a role in the escalation of violence in Al-Khasous turned themselves in to the police on Monday, according to state-owned MENA. Samir Iskander, his son Naguib, and Naseem Farouq Awad presented themselves to security officials, out of fear that they would be assaulted in retaliation.
Attempts to ease tensions in Al-Khasous, where seven people died in violence between Muslims and Christians, began on Friday in a series of reconciliation meetings between Muslim and Christian families, and religious leaders from both communities.