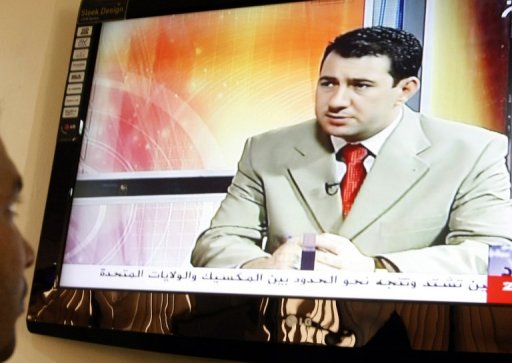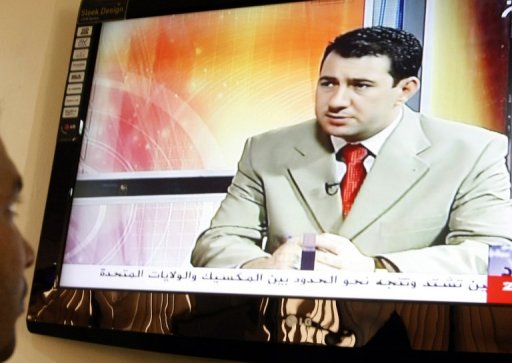 Baghdad (AFP) – Iraq has suspended the licences of 10 satellite TV channels for promoting "sectarianism", the country's media regulator said on Sunday, after five days of violence killed more than 215 people.
The bloody unrest, which began on Tuesday with deadly clashes between security forces and Sunni Arab anti-government protesters in north Iraq, has raised fears of a return to all-out sectarian conflict that plagued the country in the past and killed tens of thousands.
A protest leader and a provincial official, meanwhile, said the names of three people who allegedly killed five Iraqi soldiers were given to police, but they have not been handed over as demanded by Prime Minister Nuri al-Maliki and the Sahwa anti-Al-Qaeda militia.
"We took a decision to suspend the licence of some satellite channels that adopted language encouraging violence and sectarianism," Mujahid Abu al-Hail, a top official in the Communications and Media Commission, told AFP.
"It means stopping their work in Iraq and their activities, so they cannot cover events in Iraq or move around," Hail said.
The suspensions include Al-Jazeera, the main broadcaster in the Arab world, and Sharqiya, a leading channel in Iraq.
Maliki said on Saturday that sectarian strife "came back to Iraq, because it began in another place in this region", in an apparent reference to Syria.
The civil war in neighbouring Syria pitting mainly Sunni Muslim rebels against the regime of President Bashar al-Assad, a member of the Alawite offshoot of Shiite Islam, has killed more than 70,000 people.
Maliki called in a statement for anti-government protesters to "expel the criminals who targeted Iraqi army and police forces", after five soldiers were killed near a protest site close to Ramadi, west of Baghdad.
Iraqiya state television quoted Sahwa chief Sheikh Wissam al-Hardan as saying that if those who have killed soldiers are not handed over, "the Sahwa will take the requested procedures and do what it did in 2006".
Sahwa militiamen fought pitched battles against Sunni militants from 2006, helping to turn the tide of the Iraq war.
Hardan set a 24-hour deadline for the demand to be met, but on Sunday those who killed the five soldiers had still not been turned in.
"We do not work for the government, and we are not army or police from the government," said Abdulrazzaq al-Shammari, one of the leaders of the protest near Ramadi.
"They are outside of the site of the protest, and we helped by giving their names," Shammari said.
"The criminals were not handed over until now, but the police were given the names of three people who were said to be the ones who killed the soldiers," said Mohammed Fathi, a media adviser to the provincial council in Anbar province where the soldiers were killed.
"Those three are members of Al-Qaeda, and they are wanted," he said.
The wave of violence began on Tuesday when security forces moved against Sunni anti-government protesters near the northern Sunni Arab town of Hawijah, sparking clashes that killed 53 people.
Subsequent unrest, much of it apparently linked to the Hawijah clashes, killed dozens more and brought the death toll to more than 215.
The violence is the deadliest so far linked to demonstrations that broke out in Sunni areas of Shiite-majority Iraq more than four months ago.
The Sunni protesters have called for Maliki's resignation and railed against authorities for allegedly targeting their community with wrongful detentions and accusations of involvement in terrorism.