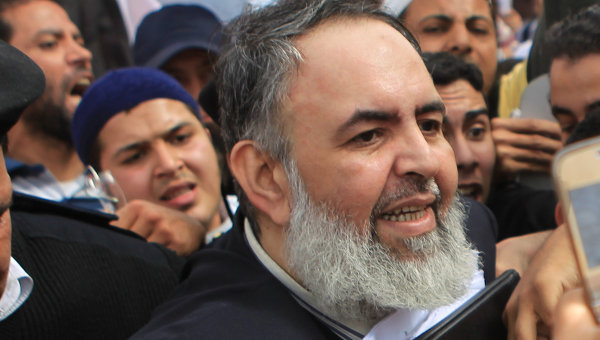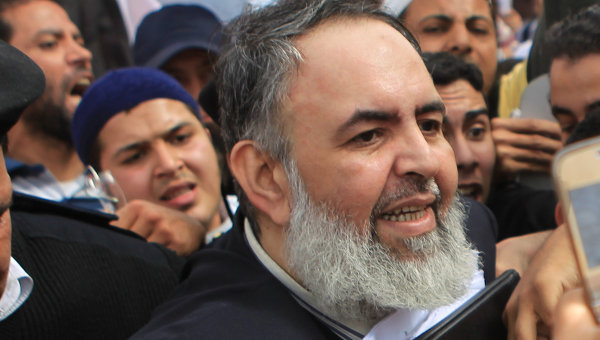 Salafi disqualified presidential candidate Hazem Salah Abu Ismail was subject to an investigation on Saturday, on charges of "terrorising Homeland Security police officers" and inciting his supporters to interrupt their work.
Abu Ismail was referred to investigations on Thursday, after Fahmy Bahgat, a police officer, filed a complaint against him, accusing him of inciting his supporters to besiege the headquarters of Homeland Security in NasrCity, according to state-owned Al-Ahram. Prosecutor General Tala'at Abdallah followed up on the claim by ordering an investigation.
On Thursday, hundreds of Islamists protested at the Homeland Security headquarters against what they called "the oppression of Islamists by Homeland Security officers".  Protesters explained that they are afraid the body might detain their members again, like it did before the 25 January Revolution.
The Islamist protesters marched from Raba'a El-Adaweya mosque to the building, before they started hurling rocks and flares at it. Protesters chanted against the Ministry of Interior and praised killed Al-Qaeda leader Osama Bin Laden. They also removed the Ministry of Interior's flag at the building and raised a Jihad flag in its place, before attempting to break into the building.
Central Security Forces (CSF) fired teargas bombs, which dispersed protesters and ended the protest shortly after it arrived at the Homeland Security building.
The Al-Raya Party, which Abu Ismail founded, was not available for comment on the investigation decision issued for Abu Ismail.