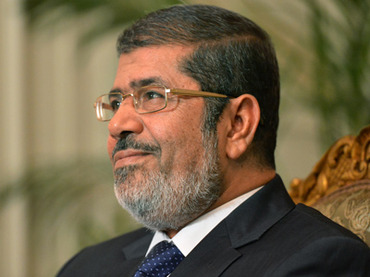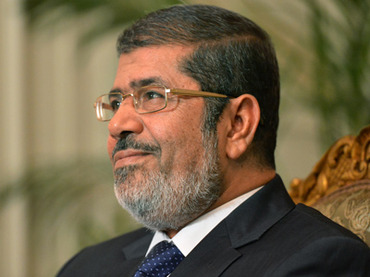 President Mohamed Morsi's gubernatorial reshuffle has sparked protests and sit-ins in at least eight governorates,.
Luxor resident and member of Al-Tayar Al-Sha'aby Ahmed Gibril opposed the appointment of his new governor, Adel Asaad Al-Khayat, a member of Al-Jamaa Al-Islamiya's Building and Development Party.
"Choosing a jihadist or Islamist faction that was responsible for closing tourism for six or seven years is political idiocy," he said.
Regarding Al-Jamaa Al-Islamiya's ideology, he said any group that wants to destroy Egypt's antiquities should not manage governorate as ancient as Luxor. Gibril added that their violent history was also worrying.
He said a sit-in began on Sunday at the governorate building resulting in protesters chaining the building shut. Graffiti of Al-Khayat resembling Dracula was drawn on the outside the building.
The Luxor resident the protesters were few in number but their sit-in was ongoing and that the door to the governorate building was still closed.
In Daqahleya, Al-Dostour Party member Ibrahim El-Sayed said there was an open-ended sit-in at the governorate building against newly appointed governor Sobhy Atteya Younis. El-Sayed sayed said it would continue until planned anti-government protests on 30 June.
El-Sayed said the sit-in began yesterday and included prominent urologist Dr Mohamed Ghoneim, the Social Popular Alliance, and other groups and citizens.
"The governor isn't the main concern in Daqahleya, but it's a way of expressing anger and discontentment with the state. Our primary objective is 30June," El-Sayed said.
In Ismailia another sit-in began yesterday at the governorate building, according to lawyer Ahmed Awri.
He said that since the new governor, Hassan Al-Rifaee, was in the building, people had tried to enter but security forces prevented them.
"We surrounded the building until security escorted him out," said Al-Rifaee. "As he left the building people threw glass bottles at him."
Despite this, Al-Rifaee claimed that the sit-in was peaceful.
"We don't have a problem with the building itself," Awri added. "Our problem is with who is inside it."
"We're waiting for 30 June, the end of the Muslim Brotherhood."
Fady Abu Samra, a member of the 6 April Movement in Damietta, expressed his dissatisfaction with the new governor Tarek Fathallah Khedr.
"Damietta should have contributed in choosing the new governor; this was what we asked for."
Abu Samra said Khedr did not know Damietta or what it needs.
He added that since the appointee, there have been protests and a sit-in.
Menufiya resident and Al-Dostour Party member Mahmoud El-Meligy said people were protesting at the governorate building and had declared that "no Muslim Brotherhood governor will enter the building."
He said Governor Ahmed Shaarawy had not arrived.
"It began as a revolution and it will end as a revolution. We're not leaving until decisions are made. Even if they remove the governor, we're staying until 30 June."
He said the fact that the Muslim Brotherhood knows that there are protests planned against them on 30 June and still appointed a Brotherhood governor was "unbelievable".
In Fayoum, after a day of intense clashes, Al-Dostour Party member Ahmed Sherbiny said there was a march on Monday protesting the appointment of Governor Gaber Abdel Salam.
"The revolution rose for the most competent to lead, not for whoever is most loyal – like during the days of the National Democratic Party," Sherbiny said.
In Beni Suef protests were held against Governor Adel Abdel Moneim Ahmed, according to 6 April Movement member Ehab Khatir.
Protests also took place in Beheira governorate, according to state-run Al-Ahram.