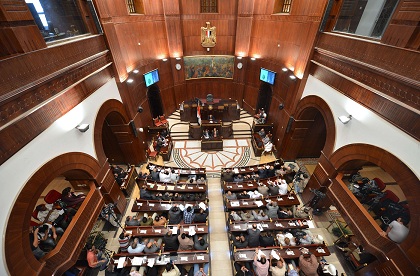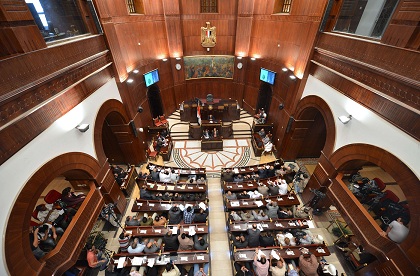 By Manar Mohsen
The Shura Council held a press conference on Tuesday to announce its agreement over the draft law regarding civil society and non-government organisations (NGOs) in Egypt.
"The council will commit to a series of discussions and debates on the details of the draft law," said Mostafa Helal, Shura Council spokesperson. "We plan on listening to more recommendations and opinions from civil society and relevant stakeholders before voting on the draft."
If passed, the draft would replace Law 84 of 2002 that was notorious for allowing extensive state control over civil society organisations.
The bill was drafted by the presidency in May after an initial version, written by the Freedom and Justice Party, received widespread criticism from local and international organizations and foreign governments.
Like its predecessor, the current draft law was met with criticism for the repressive powers it grants state authorities over NGOs. The draft has been accused of giving authorities the right to control the access to funding, internal decisions, and internal and external activities of NGOs.
According to Human Rights Watch, the draft provides the government with unlimited power to deny organisations access to domestic and international funding. Analysts and human rights defenders say this provision would cripple organisations whose survival depends on access to funds.
The draft law calls for the establishment of a coordination committee, which would determine all matters related to foreign funding and foreign organisations. Foreign NGOs would be required to obtain permission from the committee before they could accept foreign funds.
The committee would also have the right to reject or approve an international organisation's application for registration without providing justification.
One of the major criticisms against the draft law is its vagueness that could allow for an arbitrary crackdown on NGOs. For example, Article 59 of the draft law criminalises activities that are "conducted by political parties" or those "that violate national sovereignty", which many in civil society fear as unclearly defined.
The law also grants the government complete discretion to object to any of the activities or internal decisions of an NGO, furthermore requiring the organisation notify officials if they wish to raise money through campaigns. The government in turn has the right to block their funding activities if deemed necessary.
In June, the United States State Department said the draft law "imposes significant government controls and restrictions on the activities and funding of civic groups."
In May, 40 human rights organisations released a joint statement accusing the Muslim Brotherhood and presidency of seeking to impose Mubarak-era restrictions on the freedom of association through this draft law.
MPs have yet to announce a time frame for when they will vote on the draft NGO law.