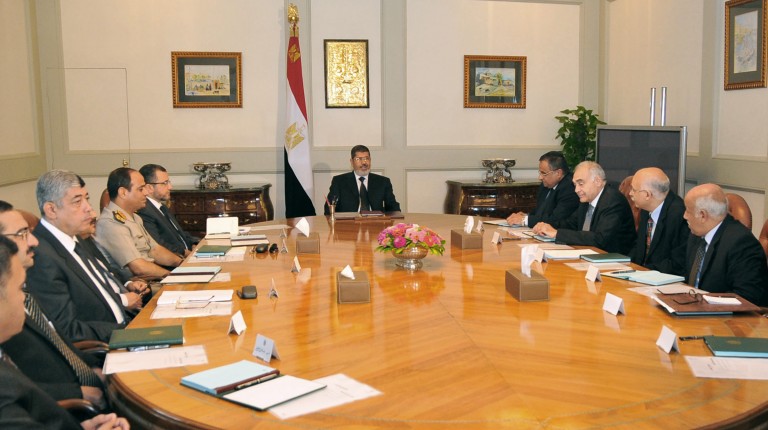 President Mohamed Morsi will address the nation on Wednesday night, according to a statement by the Presidency.
Assistant to the Egyptian President for Political Affairs Pakinam El-Sharkawy stated that the "speech will offer a 'balance sheet' for his first year in office, which is a democratic tradition reflecting the values of transparency and accountability upheld by the regime of the 25 January revolution."
The announcement came after the President headed a meeting at the National Security Council on Monday, which was attended by Prime Minister Hesham Qandil, Chairman of the Shura Council Ahmed Fahmy, Minister of Defence Abdel Fattah Al-Sisi, Minister of Interior Mohamed Ibrahim, Minister of Justice Ahmed Sulieman, Minister of Finance Fayad Abdel Moneim, Intelligence Chief Mohamed Shehata, Assistant to the President for Foreign Relations and International Cooperation Essam Al-Hadad, as well as heads of Shura Council committees for Arab and foreign relations and national security.
The statement said that the members of the meeting discussed domestic political developments, affirmed the importance of preserving the peacefulness of expression, rejected all sorts of violence, calling on all parties to denounce and prevent it.
Members said that state institutions will be responsible for protecting citizens as well as private and public properties; they will secure the protests expected within a few days, the statement continued.
The attendees agreed on the importance of moving forward along the path of democratic transition by holding the elections of the House of Representatives within the next few months. "We will call on all political groups to prepare for elections that represent an important building block in Egyptian democracy" the statement noted.
El-Sharkawy commented on the meeting, saying that the call for elections realises the will of all parties to combine change and stability.
"We have to abandon the idea that Morsi is ruling the country on his own; other institutions play a real role in decision making," she added.
After the meeting, the presidency held a press conference at the Presidential Palace in Heliopolis to provide answers regarding the meeting and the awaited speech.
Omar Amer, the presidential spokesman, denied allegations of a possible cabinet reshuffle, responding to several reports that speculated President Morsi would remove Prime Minister Hesham Qandil.
Amer also denied any intention to remove Persecutor General Talaat Abdallah, refusing to give any more details on the speech, saying "the speech will clarify many issues."
Regarding statements made by Minister of Defence Abdel Fattah Al-Sisi earlier this week, Amer stressed that President Morsi is the Supreme Commander of the Armed Forces, while General Al-Sisi is the Commander-in Chief of the Armed Forces: "there is complete coordination between them as well, as between them and the Minister of Interior".