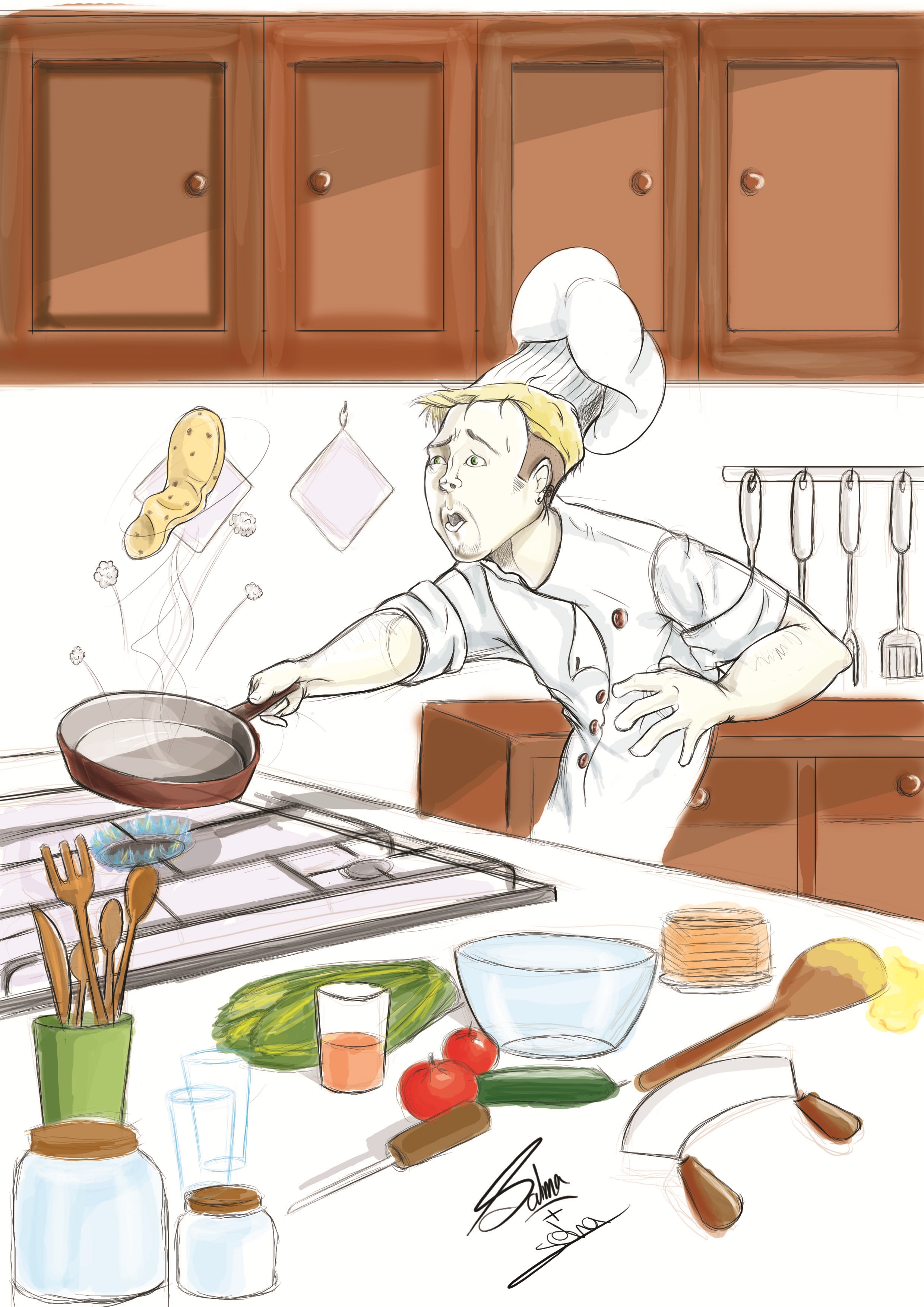 Drink:                    Blueberry and pineapple cocktail
Soup:                    Oat soup with chicken
Salad:                    Watercress salad
Main course:      Shrimp Indian style
Sayadea rice
Dessert:               Apple pie
Shorbet shoufan bel ferakh – Oat soup with chicken
Ingredients
1/2 kg chicken breasts, cut into cubes – so-

door

fe-

rakh

1 1/2 cups oats – shoo-

fan

1 onion, chopped –

ba

-sal
2 medium tomatoes, chopped – ta-

ma

-tem
1 chicken broth cube –

ma

-gi fe-

rakh

1 tablespoon tomato sauce –

sal

-set ta-

ma

-tem
2 tablespoons butter or ghee –

zeb

-da or

sam

-na
lemon wedges for serving – la-

moon

2 cups of water –

may

-ya
salt and pepper – malh and

fel

-fel
Directions
Fry the onion in butter in a saucepan until golden. Add the chicken breast cubes and stir for few minutes until half done.
Add the tomato sauce, chopped tomatoes, chicken stock cube and 2 cups of water. Cook the chicken breasts on medium heat for almost 30 minutes until they are done.
Add the oats, pepper, salt and extra water if needed. Reheat on low heat while continuing to stir until the oats are cooked, for about 20 minutes.
Serve the soup hot with a squeeze of lemon.
Salatet bokla – watercress salad:
Ingredients
1 bunch water cress –

bok

-la
2 medium tomatoes, cut into small cubes – ta-

ma

-tem
1 tbsp tomato sauce –

sal

-set ta-

ma

-tem
4 tablespoons lemon juice – a-

seer

la-

moon

3 tablespoons olive oil – zeit za-

toon

salt and pepper – malh and

fel

-fel
Directions
Cut watercress into bite-sized strips.
Mix the tomato sauce with the lemon juice, olive oil and salt to make the dressing
Mix the tomatoes cubes and the watercress strips in a serving bowl and add the dressing.
Serve immediately.