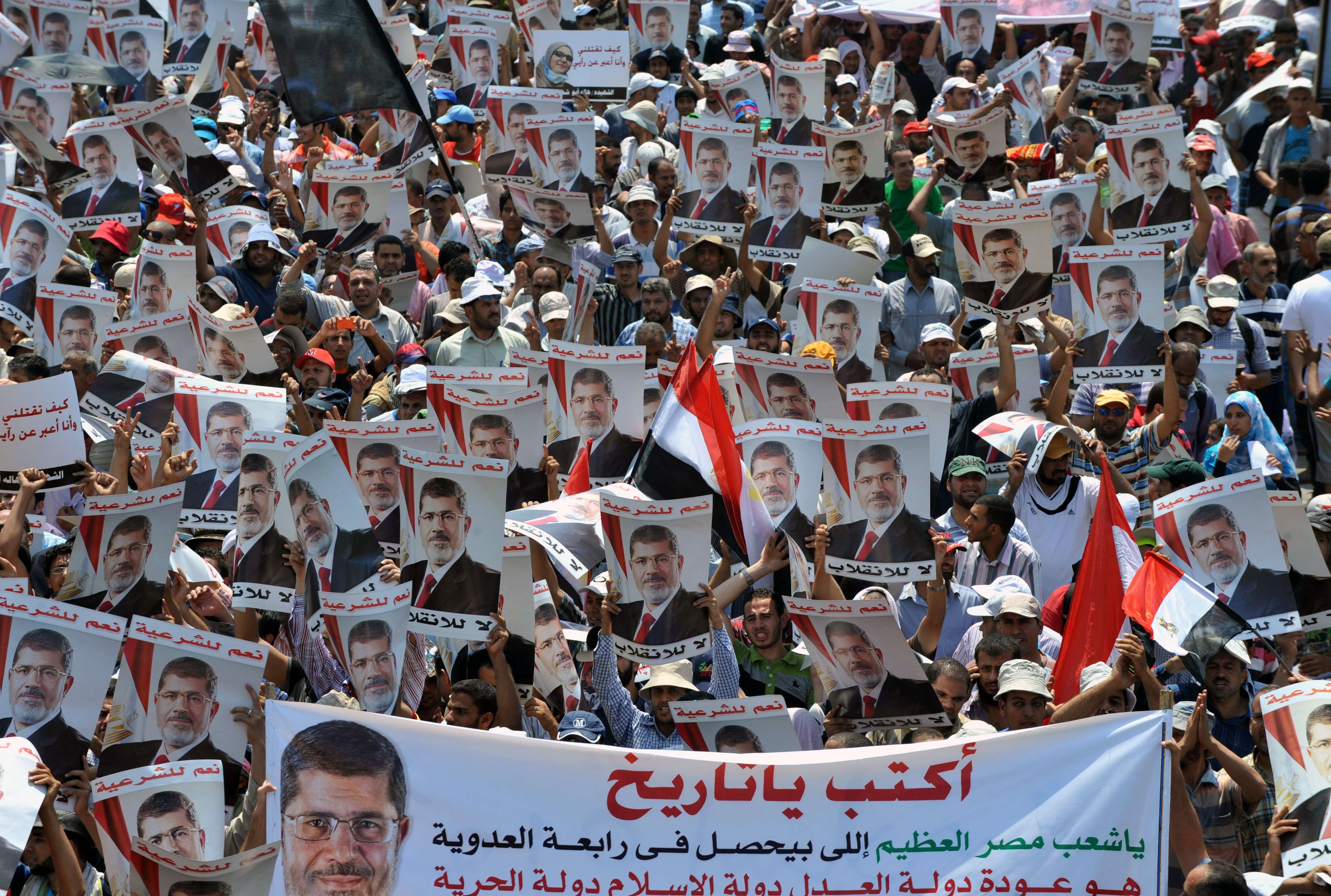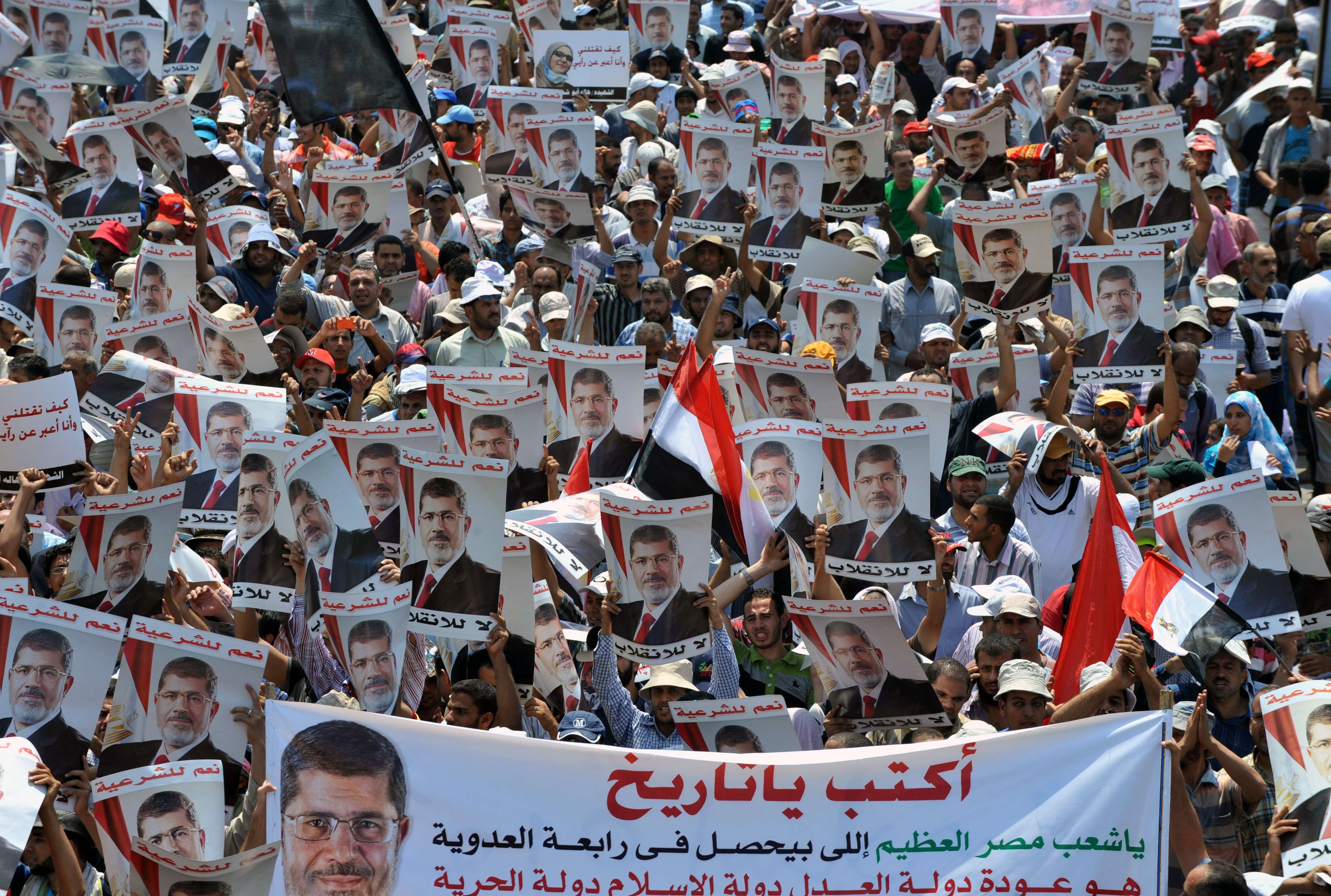 By Charlie Miller
A photographer working for Al-Masry Al-Youm newspaper said he was assaulted at the press centre at Rabaa Al-Adaweya and that his camera was stolen, in an account posted on his personal Facebook page on Thursday.
Tarek Wajeh was photographing the terracotta and sandbag barricades on the outskirts of Rabaa Al-Adaweya on Thursday when he was challenged by a guard, who Wajeh said asked him which paper he worked for.
The guard demanded to see his photographs, Wajeh continued, and when he refused he was escorted to the press centre in the middle of Rabaa Al-Adaweya. He showed his photographs to an official in the media tent, who "calmly" asked him to delete the photographs. Wajeh refused.
After a brief argument, Wajeh said the Morsi supporters demanded he hand over his memory card, which he initially refused, but then agreed that he would format the card instead, erasing the photographs. They offered to buy him a new memory card, his account read.
In the press centre he was approached by an unknown male, who began to shout "You are the ones who are killing us!" Wajeh's account continued. He said he was pushed as the man continued to shout at him and admits he may have provoked the events which followed by sarcastically saying "bravo" and clapping his hands after his aggressor had finished the verbal onslaught.
He stated he was then struck on the head and his camera was wrenched from him, but that others intervened and pulled the attacker away. Wajeh says around 50 people in the press tent witnessed the event.  He said a man told him to "Leave, and leave the camera, or else it will be you and the camera," and then pushed him out of the press centre, closing the door behind him.
Wajeh said on Saturday that he has not suffered any lasting injury from the incident, adding that his father returned to retrieve his camera. When asked whether he felt he had been targeted due to the political stance of his employer, he said journalists occasionally encounter problems at pro-Morsi demonstrations. He added that on a personal level, he does not wish to return to Rabaa Al-Adaweya, and said that his manager was accommodating in honouring his request not to be sent back.
A spokesman from the media centre at Rabaa Al-Adaweya was unavailable for comment.
This incident is the latest of a number of reported attacks on journalists and photographers in or around pro-Morsi sit-ins. Nada El-Kholy, a journalist at Al-Shorouk newspaper was attacked whilst covering a pro-Morsi march on Saturday 20 July, video journalist Menna Alaa's camera was stolen by an assailant at Rabaa Al-Adaweya on the 19 July; both of which drew condemnation from international watchdog Reporters Without Borders.
The Daily News Egypt's Halim El-Shaarani was slapped by a police officer and detained for a number of hours for photographing an officer firing teargas during the recent clashes on Nasr Road, near Rabaa Al-Adaweya. A freelance photographer at the DNE had his memory card stolen after photographing "thugs" shooting at Morsi supporters from behind police lines.