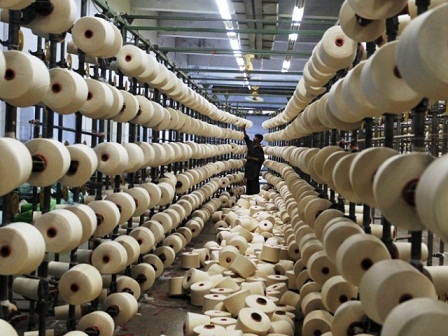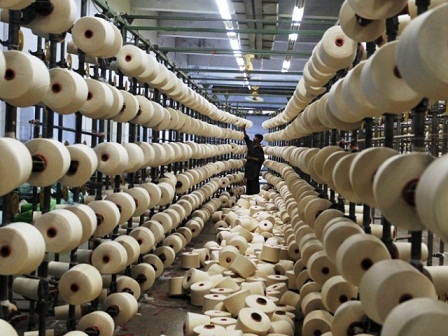 The Egyptian Trade Union Federation (ETUF) on Saturday said it blamed Ibrahim Bedeir, the Chairman of the Misr Spinning and Weaving Company, for the continued strikes by workers who had not been paid their annual profit share.
Faisal Lacushah, a Mahalla activist leader and worker at the plant, said that the company's workers have had "six months in their share of profits delayed."
"A deal had been reached with the government to pay us in four installments of one and a half months' pay before every vacation," said Lacushah. "We were supposed to get one and a half month's pay worth before this Eid holiday, however they bought themselves time by giving us a holiday for a week starting today."
"We refuse this move, and we are expecting to get paid the profit share pay tomorrow," he added.
President of both ETUF and the General Syndicate for Spinning and Weaving Workers Abdel Fatah Ibrahim said in a statement that "the chairman of the company returned the monthly salaries of over 4,000 workers to the bank despite having knowledge of its value to the workers, especially with Eid holiday coming up."
He noted that the "value of the annual profit share due and approved by the government will be disbursed to all employees in public sector companies immediately after the Eid holiday."
"This act will prolong the strike," Ibrahim added, calling on the chairman to "contact the bank in order to return the money and pay the workers' salaries."
Lacushah clarified that the strike was not for the "monthly pay, but for the profit share" while also stating that "the ETUF's statement is wrong…we are expecting the profit share pay tomorrow not the monthly salary, if the share is not paid we will continue our strike."
The company is the largest for spinning and weaving in the Middle East, with 23,000 workers employed. About 500 workers in the publically-owned company in Mahalla city went on a partial strike on 26 August, demanding the payment of their profit-sharing bonus and the functional settlement for workers with educational qualifications.
The federation also maintained its position on the article in the constitution stipulating that 50% of parliament's seats be reserved for farmers and labourers. In a letter to the rapporteur of the authoritative system, Amro Al Shobky, Ibrahim said "the Ordinary General Assembly of the Trade Union Federation had made a decision to uphold the 50% planned for the labourers and farmer in the upcoming parliament."
The letter added that "this decision reflects the keenness of the Egyptian Trade Union movement that the new constitution should include the percentage allocated to the workers and peasants."