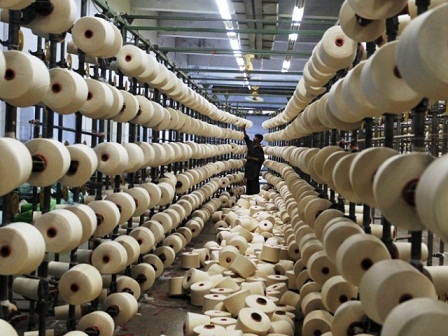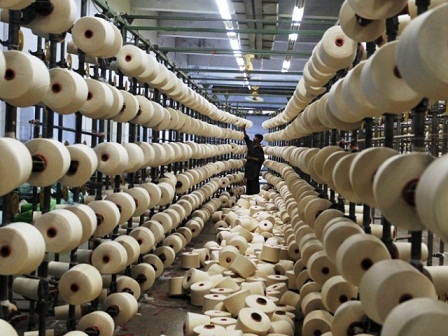 Government authorities must pay the salaries of 72,000 workers in spinning and weaving companies or "face the repercussions" warned Chairman of the Egyptian Trade Union Federation (ETUF) Abdel Fatah Ibrahim on Tuesday.
ETUF highlighted in a statement that around 12,000 workers from spinning and weaving companies are currently holding a sit-in to protest lack of payment.
Head of the Union Committee in the Kafr El-Dawar Spinning and Weaving Company Sha'aban Al Boghdady said that "the workers who are holding a sit-in in the Kafr El-Dawar Spinning and Weaving Company are being pressured by the Muslim Brotherhood and Salafis into moving their demonstration onto the Alexandira/Cairo road" but "the workers have fought against those pressures."
Ibrahim meanwhile added that "the federation has been working with business owners and the government to solve the pay issue," claiming that "providing on-time salaries will aid in reforming the spinning and weaving sectors."
The workers at the Mahalla Spinning and Weaving company had just ended a strike last week protesting lack of payment of their annual profit share, for which Ibrahim blamed company chairman Ibrahim Bedeir.
Elsewhere, several Mahalla labour activists have said that no sit-ins are currently being held within their respective companies.
The Mahalla Spinning and Weaving Company is the largest in its sector in the Middle East, with 23,000 workers employed. About 500 workers in the publically-owned company in Mahalla city went on a partial strike on 26 August, also demanding the payment of their profit-sharing bonus and the functional settlement for workers with education qualifications.
Activist at the Shebeen El-Kom Spinning and Weaving Company Ragab Al-Sheemy meanwhile said that workers there would hold a sit-in in front of the Ministry of Manpower next Sunday to protest the unfair dismissal of several workers.