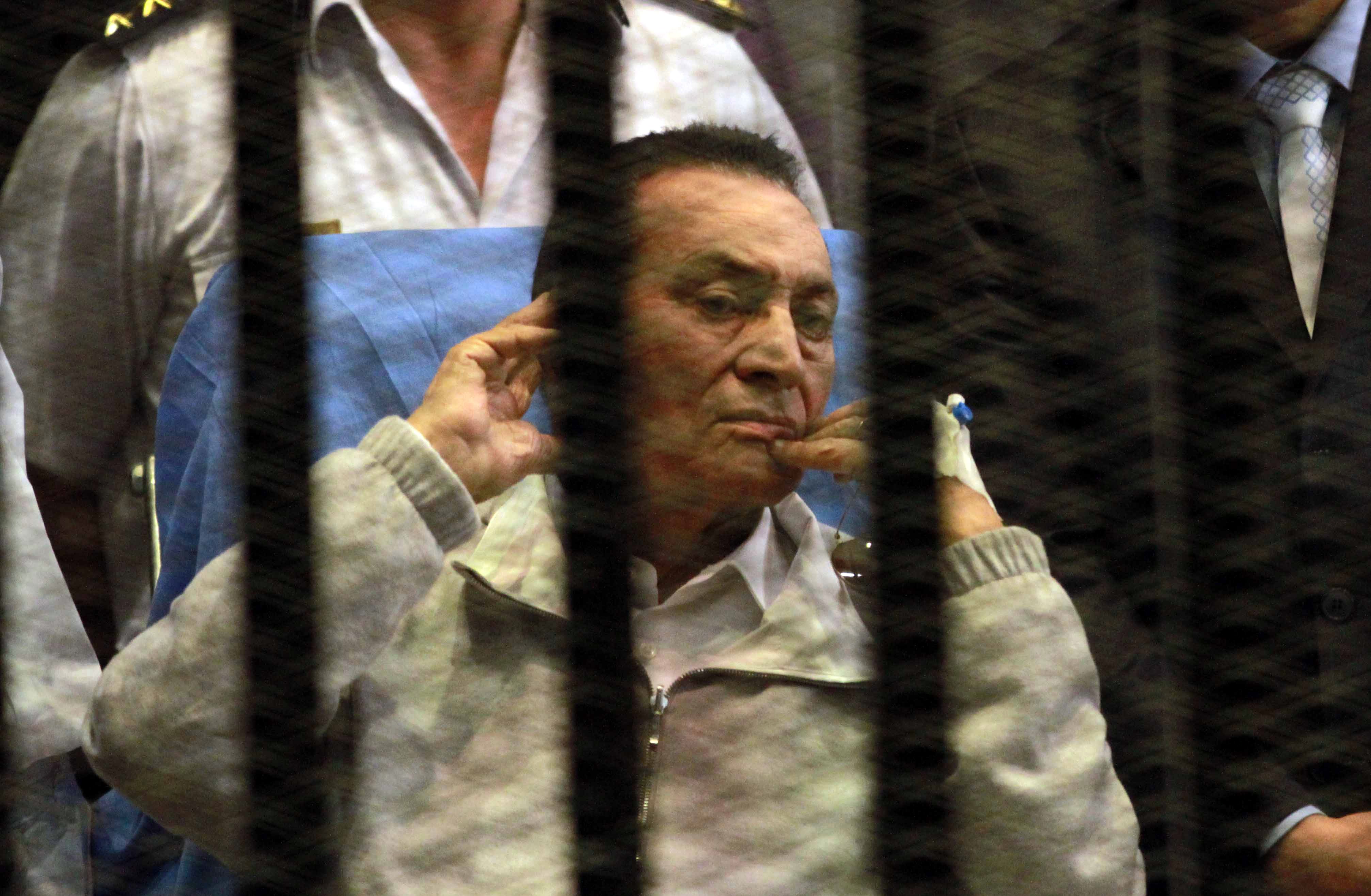 The Cairo Criminal Court trying ousted President Hosni Mubarak received final witness statements on Sunday in a session ordering the postponement of the witness hearings until Monday.
The North Cairo Criminal Court, located in the 5th settlement at the Police Academy, which was formerly known as the Mubarak Security Academy, is currently reviewing the case.
Other defendants being tried include Mubarak's sons Gamal and Alaa Mubarak, the Minister of Interior during Mubarak's time in office, Habib El-Adly, six of his assistants and fugitive businessman Hussein Salem.
Mubarak is being tried for his role in not preventing the killing of protestors during the 25 January Revolution and charges related to the illicit exportation of gas to Israel. Alaa and Gamal Mubarak were found not guilty for the killing of protestors, but were to remain in custody for other charges they were facing.
Presiding Judge Mahmoud Kamel El-Rachidi has ordered a media blackout on the current sessions. On 10 June El-Rachidi banned the civil claims lawyers representing the victims from being present at the retrial for it to remain exclusive to defendants and the prosecution.
The witnesses testifying on Sunday were First Assistant to the Interior Minister for Technical Affairs Murtada Ibrahim AbdelRahman and the director of the General Administration office for the previous Interior minister Habib El-Adly, former Major General Ahmed Omar Abu Saoud.
"The court needs more facts" said Yasser Sayed Ahmad, a lawyer representing the victims in the case.
"Although the killing of the protestors is apparent in pictures and videos, there needs to be more legal factual material," he added.
Mubarak was transported by helicopter from the Maadi Military Hospital, where he is currently residing.
Former Prime Minister Ahmad Nazif testified in a six hour session on Saturday.
On 21October the court heard witness statements from public officials, including former commander of the Central Military Zone Major General Hassan Al-Roweiny, and Omar Al-Dardeer, Head of the Investigation Unit at Minya Prison during the 25 January Revolution, former Prime Minister Atef Ebeid, former Minister of Interior Ahmad Gamal Al-Din and current Minister of Petroleum Sherif Ismail.
Mubarak was handed a life sentence by the Cairo Criminal Court; however, the Cassation Court accepted Mubarak's appeal and ordered a retrial before a different Criminal Court in February 2012.
Mubarak was released from prison in June after he spent two years in preventive detention. Criminal procedure law stipulates that the maximum preventive detention period for a felon is two years; the court exhausted the two year period before handing Mubarak a final sentence. However, a presidential decree by Interim President Adly Mansour on 25 September was issued, amending the law to allow the renewal of detention of felons who may receive life sentences.