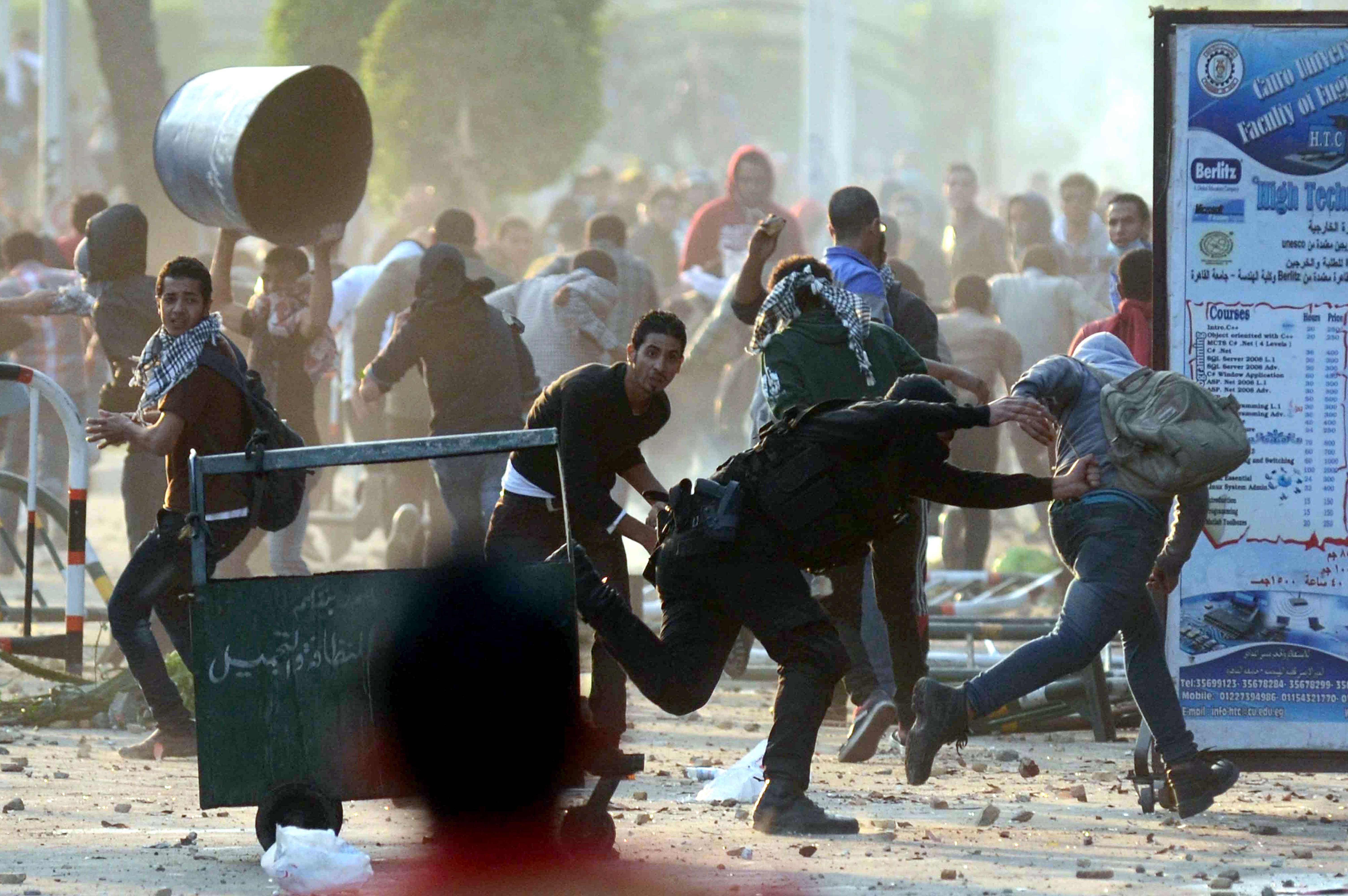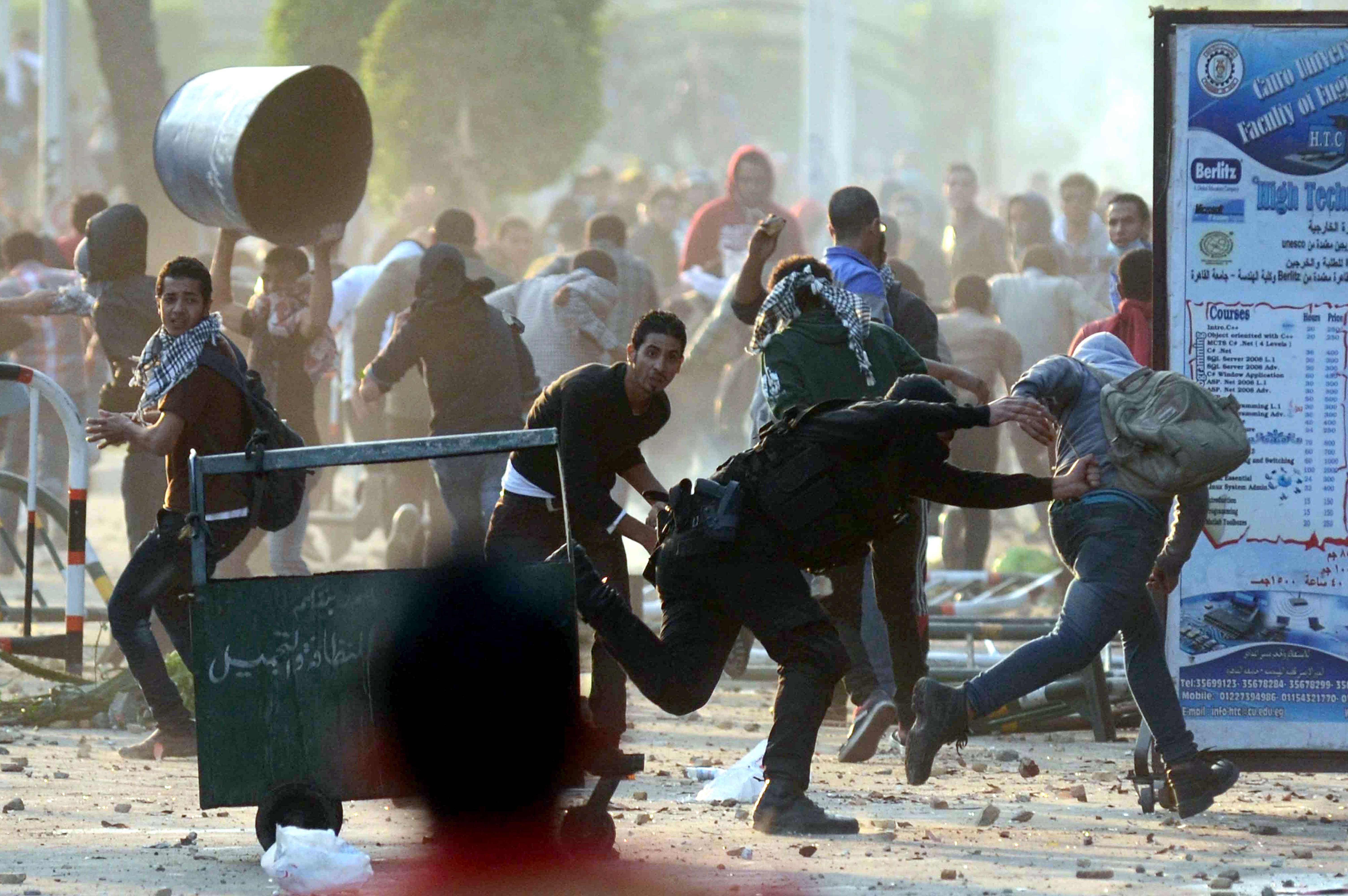 The Abasseya Court renewed on Thursday the detention of nine Ain Shams University students arrested while protesting outside the university in commemoration of the 2011 Cabinet Clashes.
The students' detention was renewed for 15 days pending investigation, according to the Association for Freedom of Thought and Expression (AFTE). The students are  accused of "protesting without a notice, assembly, vandalism public and private property, possession of melee weapons, ammunition and explosives, blocking the road, and attacking security personnel."
The  newly issued Protest Law requires a prior notice for protests to be given at least three working days in advance; it also allows the Minister of Interior to move, change the route of or cancel assemblies. Articles in the new law also allow security forces to use water cannons, batons and teargas to disperse protesters, as well as "escalatory measures" that may include the use of rubber bullets and metal pellets.
Students at Ain Shams University organised a march to the Ministry of Defence's headquarters on Monday to commemorate the second anniversary of the "cabinet clashes." The clashes left over a dozen killed, including Ain Shams University student Alaa Abdel Hady, whose death the protesting students choose to make a special note of on Monday, according to AFTE's Student Observatory.
Students chanted against Muslim Brotherhood and military rule during their march, reportedly blocking the Khalifa Al-Ma'moun Street. Security forces intervened, attacking the students with teargas and driving them back to university.
The Student Observatory, a student rights organisation, reported protests ensued inside university campus,  when security forces stormed the campus, attacking student protesters with teargas and birdshot.
The Ministry of Interior meanwhile accused the protesting students, whom it described as being members of the Muslim Brotherhood, of attacking security personnel with birdshot and shooting a police conscript in the face. Security forces arrested 25 students; one of whom the ministry said was in possession of birdshot ammunition and a teargas canister.
Students from Cairo University, Al- Azhar, Mansoura, Alexandria and Zagazig universities have held demonstrations since the start of the academic year. In many cases, the protests have turned into violent stand-offs with security forces.
Shortly afterwards, Prime Minister Hazem El-Beblawi announced that police forces would be present at the gates of all public universities "in order to help maintain security." The cabinet also gave university presidents the right to request the entry of police forces into campus in case of "threats to individuals, property or students."
Security forces were first allowed into Al-Azhar University after violence erupted on university campus on 30 October.
The Cabinet Clashes started on 16 December, 2011, when a sit-in outside the cabinet building was attacked by the military police. The sit-in was initially set up in protest over the appointment of Kamal Al-Ganzouri as prime minister by the then ruling Supreme Council of the Armed Forces. The violence lasted for four days, leaving over a dozen killed.