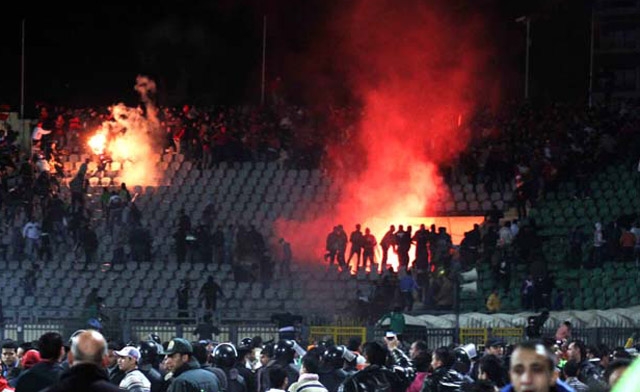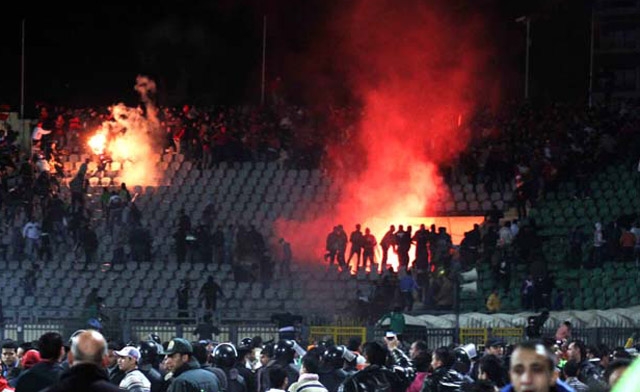 Ultras Ahlawy member Ahmed Idrees was arrested from his house by police early Monday morning following a complaint filed by Port Said lawyer Ashraf Al-Ezaby in March 2012 accusing him of assaulting Al-Masry SC fans on 1 February 2012.
Al-Ezaby is one of the defendants' lawyers in the trial for what is commonly known as the "Port Said Massacre".
According to Al-Ezaby, his complaint is included in the investigations of the Port Said Prosecution regarding the case.
Ultras Ahlawy, the group supporting Al-Ahly SC teams, said that Idrees was arrested "as a part of a campaign by the Ministry of Interior before revolutionary events aimed at intimidating [the people] and the return of the oppressive state," the group said in a Monday statement.
"We have said many times that we do not have anything to do with your dirty politics and your rivalries over positions; we only demanded that we return to the stadia to support our team but you never responded. Your campaign will not change anything besides increase our insistence and determination; if justice will convert victims to perpetrators, then wait for us to be perpetrators," Ultras Ahlawy said.
A source within Ultras Ahlawy said that Idrees is currently held in Rod Al-Farag Police Station.
The case relates to the Port Said Stadium disaster, in which 72 supporters of Al-Ahly SC were killed at the final whistle of the match after Al-Masry SC fans stormed the pitch, attacking players and fans. Those who died had been stabbed, beaten, crushed by the stampede or thrown off the upper tier of the stadium seating.
In total, there were 73 defendants in the case, who were sentenced on two separate occasions. The first sentence was delivered in January 2013, in which 21 people were sentenced to death. The second verdict was handed in March 2013, when the 21 death sentences were ratified; five received life sentences, 10 were handed 15 year sentences, two received five years and one man received a year.
In December the Court of Cassation postponed the retrial of 48 of the defendants until 6 February.