The Luxor film festival for European and Egyptian films concluded its activities on 25 January in a ceremony at the beautiful Karnak Temple. The Gold Djed Pillar for best feature film went to Serbian Director Milosh Puzich for "Withering". The jury at the ceremony said the festival recognises Puzich's "brilliant photography and ability to express the inside human conflict of a man searching for his dream."
The Silver Djed pillar went to Greek director Yorgos Tsemberopoulos for his film "The Enemy Within", which was said to capture the economic crisis in Europe with precision and "impeccable direction".
Finally, the Bronze Djed pillar went to Georgian director Nana Ekvitimishvili whose film "In Bloom" depicted the war-torn lives of two adolescent girls from Tbilsi in 1992.
"Rhino Full Throttle" won the Gold Djed Pillar in the short film category. Directed by Eric Schmitt, the jury cited Schmitt's ability to express ideas in a daring cinematographic language.
Egypt's Sara Rozik won the Silver Djed Pillar for her "The Left Shoe", for "poetic expression and great feeling of rhythm". Rozik is 20 years old and has graduated from the High Institute of Cinema in Egypt in 2013. She also holds a diploma in Music from the Cairo Conservatoire.
Four Egyptian films participated in the festival: Amr Salam's "La Moakhza" in the feature film category,  and "Scarf" by Ahmed Emad, "The Left Shoe" by Sara Rozik and "Only One Truth" by Aya El-Adl in the short film category.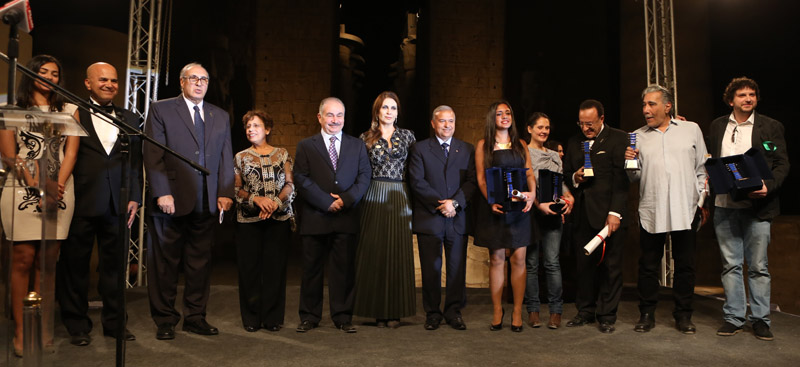 President Magda Wasef said she was delighted at what the festival had achieved in its second year and cited the increased participation of locals, women and youth this year as main achievements. "We are especially thankful to the Ministry of Youth for sending 500 fine arts students to the festival. I hope we will all meet again in the 3rd edition of the festival," she said.
The ceremony was followed by a sound and lights show and dinner for the guests at the Sonesta hotel but president of the jury Vladimir Menchov was not present due to conflict with his scheduled flight to Moscow.
The festival lasted from 19 to 25 January and, in addition to its feature and short film competitions, included a focus on German cinema after reunification as well as Egyptian cinema. Both independent films and classics, like Shady Abdel Salam's "Night of Counting the Years", were shown. Among the festival's activities were symposiums that discussed the social and political effects of cinema, independent cinema in Egypt and European co-production. Finally, the festival paid tribute to Egyptian actor Nour El-Sherif and Russian Director Vladimir Menshov.