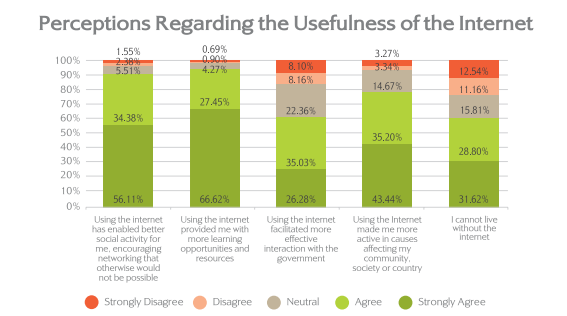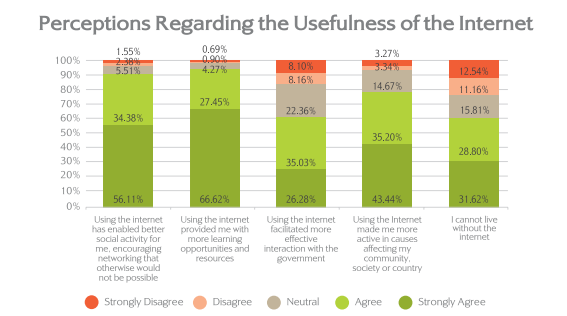 Connectivity challenges, internet prices and the lack of Arabic content are the main challenges facing Arabs while using the internet, according to the latest survey conducted by UAE-based research and teaching institution Mohammed Bin Rashid School of Government (MBRSG) and online recruitment website Bayt. The entities released their findings in a report titled "Arab World Online 2014" on Tuesday.
According to the survey, which sampled around 3,000 people from 22 Arab countries, 48% of respondents "faced challenges with connectivity and accessibility to the internet", while 45% stated that the "cost of internet access was too high". Around 41% of the people sampled argued that "the unavailability of Arabic language content was a challenge".
The report said that 53% of the respondents spend between three and seven hours per day online, and around 25% spend over eight hours per day.
"With more than 135 million internet users in the Arab region and more than 71 million of them actively using social media today, many aspects of Arabs' lives have been greatly impacted by increased internet penetration," the report stated.
"Additionally, with around 400m mobile devices, and millions of other Internet connected 'things' used in the Arab world, the proliferation of ubiquitous digital connectivity is creating new opportunities and challenges for governments, businesses and societies on the economic, social and policy levels," the report added.
94% of respondents said that having internet access has helped provide them with more learning opportunities and resources, while 90% indicated that it has improved their social activity.
The report also stated that 79% of respondents indicated that the internet has made them more involved in their community. Around 61% of respondents said that the internet facilitated their interactions with the government, and that "they could not live without it".
The report also included what respondents consider to be negative aspects of the internet; 85% stated that the internet has replaced traditional forms of communication, while 72% said that online activity has disrupted normal social activity. Around 59% stated that the internet poses a threat to their privacy, while 32% indicated that it is a source of distraction in their lives.
Mobile penetration rates in the Arab region have reached 110%. According to the report, 42% of respondents said that they access the internet through their smart phones, 73% of whom use 10 or more mobile applications regularly.