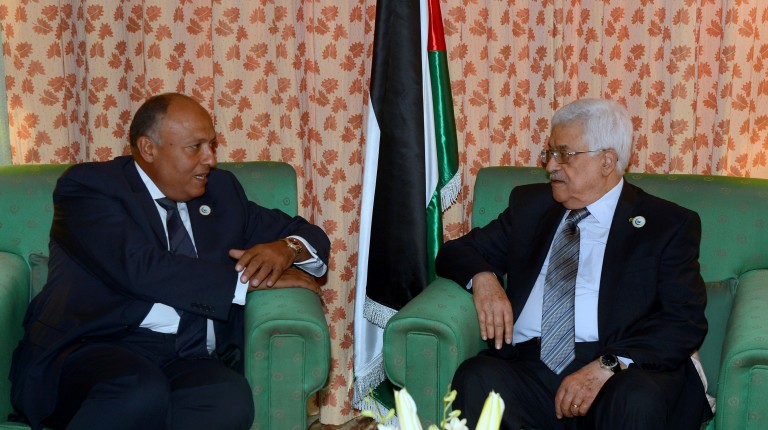 Minister of Foreign Affairs Sameh Shoukry attended the Organisation of Islamic Cooperation's forty-first session on Wednesday, where he discussed several regional issues.
Shoukry met Palestinian President Mahmoud Abbas, who congratulated the newly appointed minister during this "important phase".

A ministry spokesman said that during their meeting, Shoukry outlined developments in Egypt, and the government's success in accomplishing the first stwo steps of its transitional roadmap, including the passing of a new constitution and conducting presidential elections. The spokesman also stressed the ministry's intention to accomplish the third step of parliamentary elections.
Shoukry congratulated Abbas for the formation of the Palestinian national reconciliation government and invited him to Cairo. He pointed to Egypt's historical support for Palestine, and its aid in all international forums and UN decisions related to the formation of a Palestinian state.
The Palestinian president expressed his appreciation of Egypt's efforts towards the Palestinian issue and its constant support for the rights of the Palestinian people.
Shoukry also covered the current situation of Palestinian-Israeli negotiations which have currently come to a standstill. Abbas held Israel responsible for this, which he accused of putting obstacles in the path of the negotiations. He also accused Israel of continuing to break international law through acts such as "the Judaisation of Jerusalem" and increasing its settlements.
Shoukry addressed the issue of Libya, highlighting the positive role neighbouring countries should take to help the Libyan people attain their "rightful" ambitions of building a modern country.
He shed light on the necessity of stopping violence and the retreat of foreign fighters from Syria. He warned about the consequences of the spread of extremism and sectarianism and how this would negatively affect regional stability and interests.
On Iraq, the minister said Egypt hopes all political forces would seek regional and international help in reaching a real settlement to maintain unity in the face of extremism and terrorism.
Also on Shoukry's agenda was the situation of Muslim minorities in the member states of the OIC. He called for an end to all violence and respect for human rights of citizens in Central Africa, and stressed need to halt discrimination against the Rohingya minority in Myanmar.
Shoukry discussed the importance of correcting misconceptions about Islam and Muslims, and of ending hate speech and incitement against Islam.
He also called for the necessity of "unity in the face of terrorism", through nationally and internationally coordinated policies to eradicate this phenomenon. Shoukry proposed the holding a high-level meeting during the current session to consider  the provisions of the OIC's treaty to combat international terrorism.