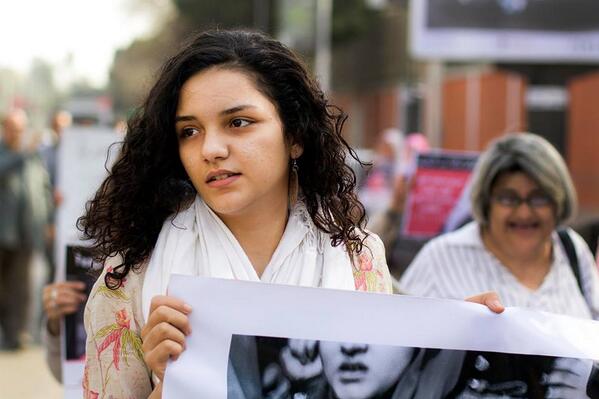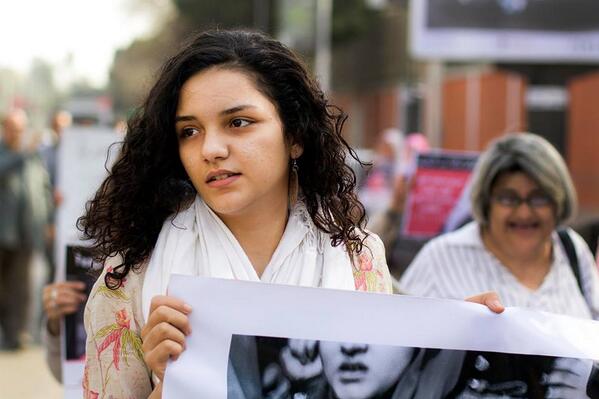 By Jihad Abaza
Sanaa Seif and other detainees in Qanater prison refused to meet the National Council for Human Rights (NCHR) delegation Monday, saying that other detainees are subject to more abuse.
Leila Sweif, Sanaa's mother, said that the detained activists decided to delegate Yara Sallam (award winning rights activist who is also detained) and Salwa Mehrez to inform the NCHR delegation that if they want to know the reality of the situation in prison, they should be meeting other detainees who are in much worse condition and experience more abuse.
Karima El-Seirfy, daughter of Amin El Seirfy, has spent over thirty days on hunger strike in protest of mistreatment inside Qanater Prison. El-Seirfy was was arrested from her home last April, an arrest her mother said was to pressurise her father, a close affiliate of ousted President Mohamed Morsi.
El-Seirfy's hunger strike came after prison guards ordered cellmates to beat her and her colleagues and steal their belongings, said El-Serify's mother at a solidarity conference on 20 June.
"The Islamist girls are subjected to a lot of abuse, and they should be getting visits from the delegation," Sweif added, referring to Sara Khaled, Karima El-Seirfy, and other Al-Azhar students detained in Qanater.
State-run Al-Ahram said the 30 June fact-finding committee met with detained Yara Sallam, and claimed that she confirmed that treatment inside prison was "very good."
"No one goes to visit an exceptional detainee whose conditions are known to be better to get a general view of how conditions are like inside prison," Sanaa said in a message conveyed by her sister.
According to the campaign Al-Horeya Lel Ged'an, there are currently over seventy female political detainees in Egypt. Most detainees are students from Al-Azhar University arrested during clashes on campus in 2013. Sanaa and her colleagues were arrested at the Itihadeya Palace and are charged with violating protest law.
The NCHR delegation included George Ishaq, Shahinda Muqalad, Ragia Umran, Kamal Abbas, Salah Sallam, and Nevine Mosaad.
Mosaad said the delegation did meet with Sara Khaled, a dentistry student charged with protesting and is sentenced two years in prison, as well as Yasmine AbdelMoneim and El-Seirfy.
On 23 June, 12 human rights and civil society organisations, including the Egyptian Initiative for Personal Rights, released a statement condemning the torture allegations coming out of Qanater prison.
The report said that "none of the cases were investigated," and called for their immediate investigation.
The Ministry of Interior denied that cases of torture or abuse took place inside the prison.