El Sawy Culturewheel hosted a two-hour hip-hop concert, dubbed HipHop 03 Volume 3, on 26 August featuring promising acts Foo2 El-Sefr, 3adam E-En7yaz, and one man project Mohamed El-Deeb.
The bands join a growing list of entertainers whose talents have started to blossom on the underground scene in Egypt. As underground music in the country is continuing to gain momentum, rap remains a strong contender and alternative to pop and mainstream music.
The HipHop 03 concert is the third of a series of concerts organised by Alexandria based rap unit Foo2 El-Sefr (Above Zero). The first two concerts were held in Alexandria, gathering major local hip-hop talents.
Founded in 2010, the self-run group contains four members specialising in different techniques, styles, and come from different backgrounds. "Every one of us started with a separate entity, however we later preferred to unite the efforts and come up with this musical project," said group member Ahmad Hegazy.
Foo2 El-Sefr's topics vary from terrorism, social corruption, and direct political agitation. A track by Inzaghi, one band member, is Be'sm El-Mwaten (In the name of the citizen), talks about political oppression and military rule.
"We understand that the rule of the MB [The Muslim Brotherhood] was exclusionary and oppressive, but that does not give the current regime the right to commit mass killings and arrests against them," said Inzaghi.
Another song is Welad den Al-Anzima, a harsh criticism of reactionary visions by supporters of different regimes who limit dreams and hopes of revolutionary youth. However, the group does not limit its style to hardcore commentary, but "aims to include sarcastic elements to its content as a method to relate to the audience", said Adhm UnQut.
For the group, rap is not genre where they get to express themselves. "Rap is a tool by which you relate and reach out to other people in your society. It is there to discuss your anger and concerns," Inzaghi added.
The band stands against the commercialisation of their music, and refuses to sell their talents to corporations.
"The media abuses artists. More often than not, these talents lack any financial support or the necessary equipment, which tempts them to produce songs for materialist reasons only for the sake of profit like commercials," said D-Baba.
The concert's line-up also included the politically oriented 3adam El-En7yaz unit. Similar to rappers of their generation, the group's members grew up listening to English-language hip-hop tracks including genre heavyweights Tupac, Snoop Dog, and Eminem.
"After that we started to explore Arabic hip-hop like the Palestinian group DAM, and the Alexandria based Omar Boflot," said Romel B.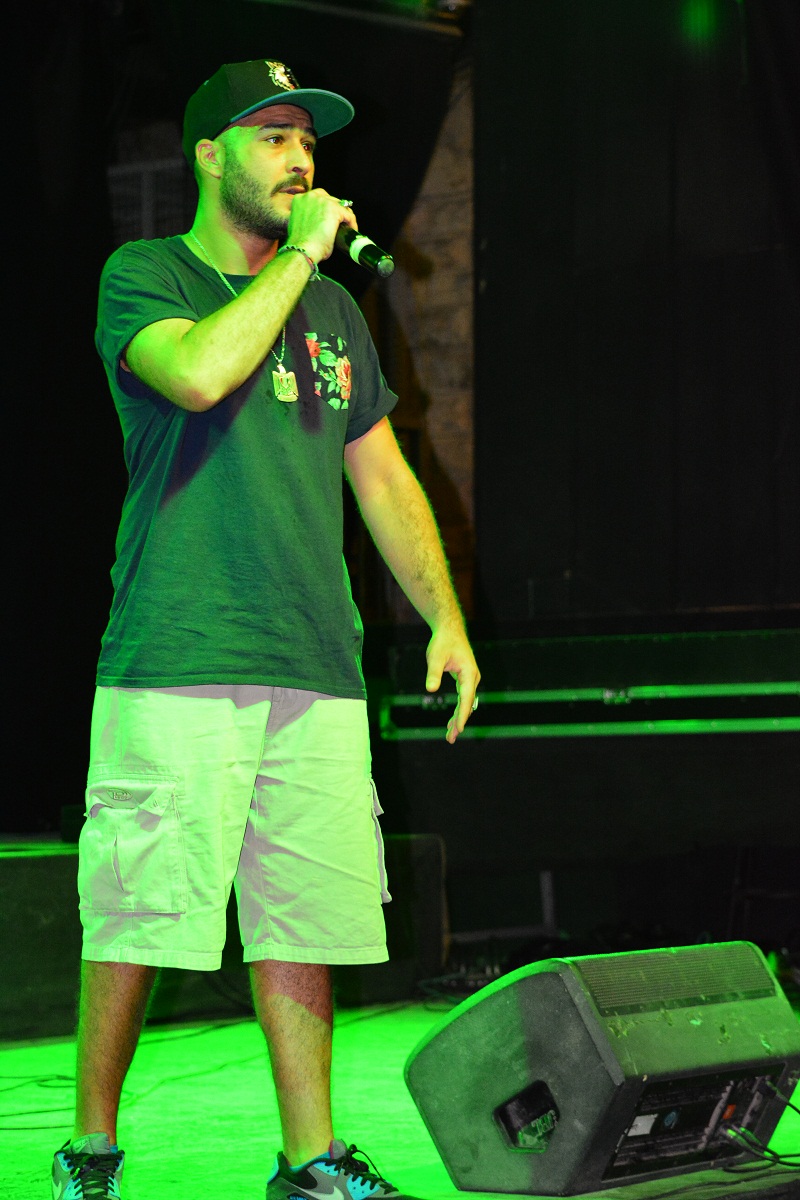 Although the unit was formed in 2009, some of its members have been active since 2006. Romel B released a track in 2006 by the name Qadeat Balad addressing the issue of illegal immigration.
"Rap exists whenever exploitation and oppression exist. The violations of Mubarak's regime made rap appealing to many giving them an outlet to protest," he said.
The unit is a vocal opponent of the current regime that came to power after the wave of protests that ousted former president Mohamed Morsi.
Mohamed Sherif, a member, was arrested during the third anniversary of 25 January Revolution and detained without any direct charges for six months.
Sherif, a member of the 6 April Youth Movement, participated in the Tamarod campaign, collecting signatures to withdraw confidence from President Morsi.
However, he asserts that "the violence and massacres committed by the current regime is unacceptable". The group has released a number of tracks reflecting on the political situation demonstrating their dissent.
One of these tracks, Antom 'Abeed (You are slaves), condemns supporters both of the MB and the Army. The track is political agitation showing deep concern of repeating the cycle from a religious authoritarian rule to a military dictatorship.
However maintaining such radical rhetoric is not easy, the unit members explain, as they suffer suppression and censorship from cultural centres and venues.
"There was definitely more freedom of speech during the times of Mubarak, SCAF, and Morsi than now. Now if you say no, you get arrested. If you protest, you might risk being shot," Sherif said.
The unit performed many political songs receiving positive actions from the audience. During the concert they raised the Palestine flag in solidarity with the Palestinian people.
Less political and more technical, Mohamed El-Deeb performed in last week's concert. The Cairo-based musician is known for his unique songwriting and music production skills. He released one EP called Cold Peace, receiving positive reviews from the underground scene in Egypt and abroad.
El-Deeb is also known for using nostalgia and incrementing Egyptian popular culture in his songs, making him closer to the people and unique element in the scene. "I believe hip-hop drives greatly from popular culture. Lately commercial campaigns used such angles of nostalgia receiving wide success," he said.
El-Deeb believes in digging deep in Egyptian society and emphasising change from within. Recently, his interest to reflect his very personal point of view overweighed his tendency to rap about politics.
"At the time when there was an ongoing political change, I felt I needed to participate. In the current period, we have problems to solve other than politics. There must be other ways to reach the people."
When asked about censorship, El-Deeb commented that it is "ridiculous" that some cultural centres are still imposing restrictions on performers; especially four years after a revolution that vocally demanded freedom of speech.
As rap concerts spread around the capital and in a number of other cities, the rebellious genre appears to be an efficient tool where young people channel their anger, and dissent over Egypt's challenges since the 25 January Revolution.