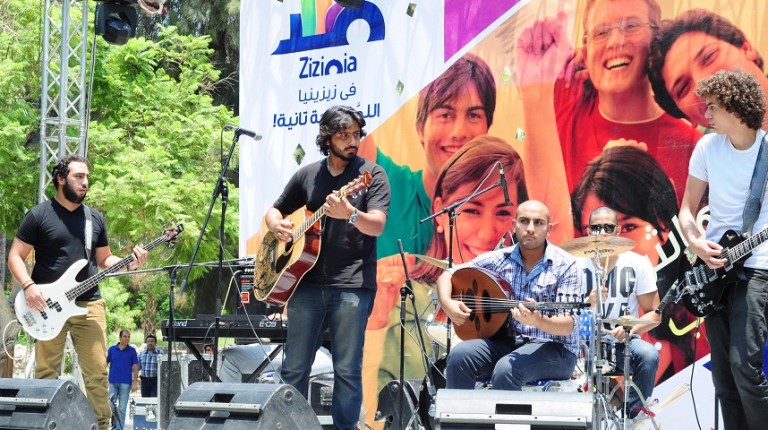 The independent Egyptian band "CairoKee" has been nominated for the Best Middle East Act category in the MTV European music awards.
The band recently launched their latest album featuring five songs including "El Sekka Shemal" (The way is wrong), which has the same title as that of the album and discusses the struggle of living in the middle of "contradictions" in Egypt.
Other successful tracks by CairoKee include Sout El-Horreya (The Sound of Freedom), Matloub Za'eem (A leader is wanted) and Yal-Midan (Oh, the square) featuring the renowned Egyptian singer Aida Al-Ayoubi.
The band, which was formed in 2003, is one of many independent or "underground" bands that rose to fame in the past few years. Many underground bands were also formed during this period.
In June, Cairo Underground Festival  was launched specifically for underground music as a response to the increasing popularity of the music genre, which is "relatively new to Egypt," over the past few years, said Amr Ismail, one of the organisers of Cairo Underground Festival.
Finding underground bands, such as Cairokee, and singers like Ramy Essam, in protests among young people and having the same political stance as the majority of the youth, made them distinctive from mainstream singers who took the side of the regime to keep their status, said Nahla Esmat, programme manager at Rawabet Space for Performing Arts.
"The audience is always searching for someone who looks like them – who has something in common with them," she said.
During the revolution, underground music was an integral part of many protests and sit-ins. New songs by singers like Ramy Esam and Eskendrella band were performed in Tahrir Square, along with covers of old songs of El-Sheikh Imam Eissa, a singer and composer who has been an icon of revolutionary music since the sixties.
"These new songs will last, just like Sheikh Imam's music did," said Abd El-Tawab Ali, co-founder of "Beit El-Raseef," an independent art space. Underground music "speaks the same language as the street," not only with political topics, but with other topics as well, he said.
Mainstream music on the other hand, uses "the same 25 words" of love in every song, said Esmat, referring to a stand-up comedy performance by George Azmy mocking the "used up" language of mainstream romance topics.
Most underground bands tackle various topics in their songs. One example is Massar Egbari, an underground band that produced love songs such as "Mersal l Habibti" (A letter to my lover), songs for workers such as "Heila Heila", a motivational phrase associated with hard work in the Egyptian culture, along with social topics as unemployment "Ee'ra El-Khabar" (read the headline), a song about job ads in newspapers that still do not fulfil the needs of unemployed young people looking for jobs.
The need for music that reflects the audience's "real emotions, daily lives" and "fulfils their taste" has been there for the past decade, said Tamer Abu Ghazaleh, singer and music producer who co-founded "Eka3," an underground music label.
The rise "was natural for both sides to meet," he said, "the musicians with new things to say, and the listeners with hunger to a new sound."
The increasing popularity of underground bands afforded them more exposure to build more audiences.
"Their opportunities increased," said Esmat, "Concert organisers, theatres and even people in weddings started inviting them to perform as they knew the audience loves them."
Cultural organisations, such as the French Institute in Cairo, have been organising festivals that brought underground bands to the public in free concerts.
"Underground bands started going to people in their places," said Esmat, referring to festivals that were organised in places that are accessible to lower segments of the middle class as much as to upper classes, such as Salah Al-Din Citadel.
Exposure that was recently offered to underground bands was not only through live performances, TV shows and commercials also played a role, she said.
Since 2011, underground musicians starred or performed in TV commercials for a number of large corporations in Egypt. Famous advertising campaign by Coca Cola Egypt over the past three years included songs by Cairokee. Other campaigns by Mobinil, a local Egyptian telecom company, featured underground singers too including Dina El-Wedidi and Mohamed Mohsen.
Over the past months, an underground musician, Youssra El-Hawary, has hosted a radio show "A'det mazzika," which broadcasts casual music sessions with underground singers and bands on one of the popular radio channels, Nogoum FM.
With the increased prominence of social media websites, which were used during the Egypt revolution for political discussions and calls for protests, a new channel emerged for the underground musicians to distribute their music, said Esmat.
"Aside from concerts, singers used to depend on producing albums in the past," she said, "now everyone is on YouTube and SoundCloud."
As in most of the independent music scene, most underground singers and bands are self funded. The lack of a constant source of funding makes covering production costs a challenge.
Production costs became less than they were in the past since bands don't need to produce CDs or cassette tapes to distribute their music, said Esmat.
"It is easy to have a home studio to produce music with decent quality for online distribution," she said.
Since most underground musicians write their own lyrics and compose their songs themselves, their production cost remains much less than that of mainstream music.
The segments that form the underground scene's audience have changed too, she said. With the rise in their popularity, underground musicians became open to members of the upper class and the upper segment of the middle class, segments who can afford to pay for concerts, she said.
However, the sustainability of the underground music production is still questionable.
Despite the high sales of concerts tickets, the revenue does not cover the costs, said Ali. He rejects the idea of receiving grants from funding organisations to avoid being labelled as "funded," a label that raises questions about the musician or the venue's agenda, he said.
"We run the venue without getting salaries," he said "we face problems paying the rent sometimes."
The limited venues that host underground musicians face funding challenges as much as the bands do. Rawabet, an abandoned warehouse which was converted into an independent space for music and performing arts, was forced to close by the landlord for a few months early in 2013 as they could not secure their rent.
Another space that had to close temporarily, Beit El-Raseef, opened again in June, but at a new location.
"Our neighbour, the ambassador of Cuba, did not like our presence in the neighbourhood and filed an official complaint to the Ministry of Foreign Affairs," Ali said, "the space was forced to close until we found a new location—a garden in a house."
Other challenges the venues face include censorship and tax problems.
"Independent music venues are classified as night clubs in the tax system," Ali said, "Because the state does not want to say that it gathers tax from cultural places instead of supporting them."
But obstacles facing independent venues forced culture professionals to think of creative alternatives.
Underground singers Dina El-Wedidi and Maryam Saleh performed on the roof of an old movie theatre, Rio, in Alexandria in January. In June, a group on musicians including Abdallah Al-Miniawi and Hani Mostafa sang in the first "sofar" (Songs from a Room) event in Cairo.
"Young people's creativity will not stop at the point of playing on a large stage at the opera house," said Ali.